There's nothing quite like having a wedding ceremony under a clear blue sky, basked in the warm sunlight. The spectacular summertime scenery will be the perfect backdrop as you recite your wedding vows solemnly and have a festive celebration with your loved ones afterwards.
Throwing a summer wedding can be quite tricky, however, as the hot weather can easily ruin everything, from your makeup to your wedding menu. So, before you decide to throw the summer wedding you've always dreamed of, make sure to check out our simple guide below.
Make sure your makeup can handle the summer heat
One of the major drawbacks when it comes to summer weddings is how easily your makeup can melt due to constant exposure to the sun and heat. The summer heat means that you're going to sweat a lot and produce more oil on your face. Don't worry, you can stay flawless throughout the big day by following our tips below.
1. Use an oil-absorbing base
Ask your makeup artist to apply an oil-free primer on your bare face, right before adding a layer of oil-free foundation. A primer will make your makeup last longer and protect your skin from sunshine. When you blend your foundation on top of it, your face will stay flawless and smooth all day, even when you're sweating bullets.
2. Avoid heavy moisturizers
A heavy moisturize can turn your face into an oil slick, making it harder for makeup to stay put throughout the day. Unless you have really dry skin, avoid products with heavy moisturizers.
3. Layer your eye makeup
Start your eye makeup with an eyeshadow primer. Just like a foundation primer, your eyeshadow primer will keep your liner and shadow flawless even when faced with humidity and sweat. Afterwards, dust on a bit of translucent face powder before applying your eye makeup, and add another layer on top of your eye makeup as extra protection.
4. Use waterproof eye makeup
Waterproof eye makeup means more than just waterproof mascara. It means using a waterproof eye primer, smudge-proof liquid eyeliner, and of course, waterproof mascara.
5. Apply your lipstick well
To get the perfect lips on your wedding day, frame your lips with a lip liner to prevent your lipstick from smudging. Then, apply your lipstick and press your lips to a tissue. Brush some loose powder on top of the tissue and remove it to hold your color in place.
Choose the right bridal hairstyle for your sunny wedding
Wondering how you can make sure your hair stays pretty on your wedding day, with the sun blazing above your head this summer? Summer weddings pair especially well with simple, unrestricting, and effortlessly beautiful hairstyles. We're talking about braids, loose buns, flowers, and other pretty variations that are just perfect for the season. See our summertime hairstyle ideas below and tell us which one you'd like to rock on your wedding day.
(Photography: Jo Photo, Ben Yew)
1. The flower crown

This is the season for vibrant-colored flowers, and what could be better than to weave them into your one-of-a-kind flower crown? The great thing about it is that you can pick whichever flower and color you like most; the variations are endless. Have your hair curled loosely as a finishing touch.
(Photography: via Buzzfeed, via Me Pretty)
2. The bun
This one is simple, easy, and breezy. Keep your hair in place by forming it into a bun. You can have it loose, low, or perhaps even shaped into a French twist; the choice is yours. Do keep in mind that buns that are too glamorous might not be suitable for summer weddings, so it would be better to keep it simple and sweet.
(Photography: via modwedding.com, via modernwedding.com.au)
3. The braid
If you prefer your hair loose, opt for the boho chic look with braids. There are so many types of braids nowadays, you can choose whichever your heart loves. The fishtail, waterfall, or crown braid, whatever you fancy. It will keep your hair in place, and it looks beautiful too.
(Photography: via deeperflowers, via wedding chicks)
4. The flower bun
The flower bun is basically a bun adorned with flowers. After shaping your hair into a bun, add beautiful flowers to make it even prettier. This is definitely one of our favorite summertime wedding hairstyles.
(Photography: via Green Wedding Shoes)
5. The braid bun
This one has been increasingly popular lately. At first glance it looks like a simple bun, but when examined closely it actually consists of braid strands. For an effortless summery look, pull out a few loose strands of hair.
(Photography: via polkadotbride, Jose Villa)
6. The flower braid
The last combination is the flower braid, which features a braid that's pulled to the side and adorned with a flower crown. You can also insert flowers and ribbon into the braid for a bohemian look.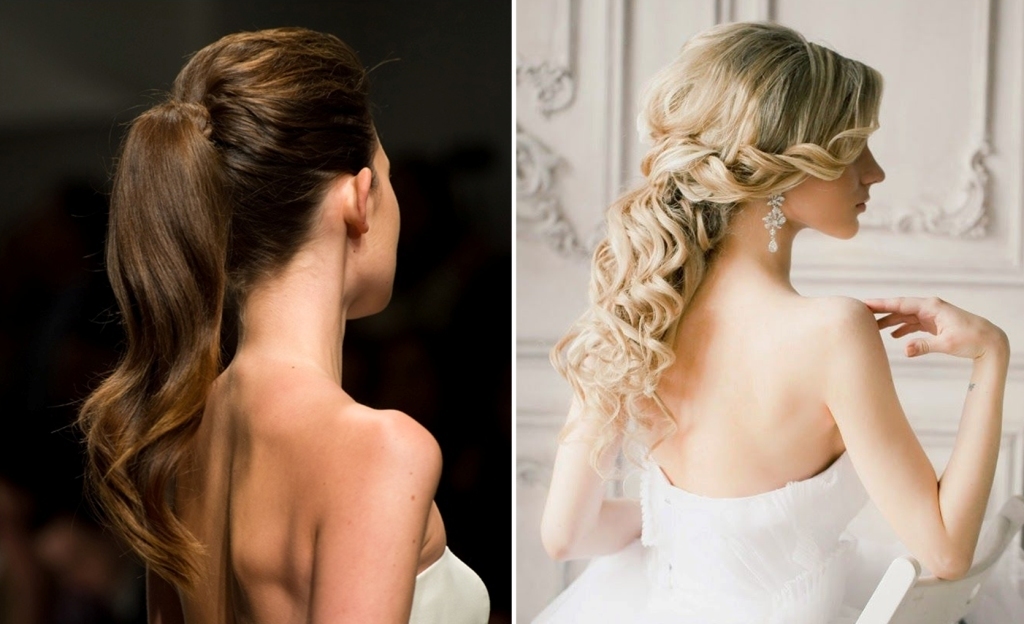 (Photography: doc. temptalia, via bellethemagazine)
7. The ponytail
The easiest way to keep your hair in place even with the summer breeze is to tie it into a pony tail. Make your hair look extra beautiful with ribbons and flowers. Alternatively, you can curl the remaining hair to add some extra oomph.
Opt for sturdy flowers that can withstand the summer heat
Aside from your bridal look, there's one thing you shouldn't overlook: the flowers. It will be a bit of a letdown if your flowers wilt halfway through your event. That's why you should pick summertime wedding flowers we've listed here, ones that are known for their ability to withstand the heat.
(Photography: via Colin Cowie Weddings)
1. Rose
The best all-round wedding flower, roses are romantic, captivating, colorful, and most importantly, tough enough to withstand the summer sun.
(Photography: Alice Hu, Sean Money)
2. Orchid
Even though the orchid might seem like a very delicate flower, it's actually very strong and able to stay under the sun for a long time.
(Photography: defiore, via Me Pretty)
3. Carnation
Though carnations have a reputation of being "filler flowers," they can be very beautiful prime flowers, especially when you consider their endurance and affordable price.
(Photography: Michael Allen, via Me Pretty)
4. Hydrangea
The water-based flower might seem so fragile that it looks like it can't stay outdoors. However, the exact opposite is true. Hydrangeas are durable enough to withstand the warm weather and are perfect for outdoor wedding ceremonies.
(Photography: Michelle Waite, via Bellethemagazine)
5. Dahlia
Sturdy, hardy, and eye-catching, this flower is a favorite of many because of its beautiful structure. Dahlias come in season during the midsummer, so you should consider this availability factor if you're planning for an early summer wedding.
(Photography: via wantthatwedding.co.uk)
6. Calla lily
Modern and sleek, the calla lily is a favorite among urban brides. Calla lilies are available in many shades, with a distinctive shape that will make your wedding venue look so beautiful.
(Photography: via brides.com, via The Knot)
7. Sunflower
Of course, the most obvious summertime flower of all is the mighty sunflower. True to its name, sunflowers can withstand heat very well. In fact, they thrive when bathed in sunlight!
Choose the right catering for a summer wedding
(Photography: Mango Studios)
Other than your bridal look and flowers, another essential wedding element to plan is your catering. Choosing your wedding menu is not just about serving your favorite dishes, you need to make sure that it fits the season and venue well.
It's not a great idea to serve hot chocolate outdoors on a sunny day and though ice cream is perfect for summer, you need to figure out how you're going to keep it cool for hours. Whether you're going to have a sit-down dinner or a buffet arrangement, here are some tips you should consider when deciding what to serve (and what not to serve) on your summer wedding.
Appetizers
Do: For starters, always look for food that is served cold. The most popular dishes to serve during summer are a variety of salads, shrimp cocktails, and other food that can sit well on shaved ice. If you like soup, you can opt for gazpacho.
Don't: Do not serve warm soups and tapas that consist of raw meat ingredients without making sure that your caterer can keep them fresh throughout the day. Any kind of raw meat, such as sashimi, will most certainly go bad quickly in the outdoor heat. The same goes for cheese platters, as the heat can melt the cheese or worse, stink up the whole area.
Entrée
Do: Who doesn't love to have a BBQ party on a summer day? This is the perfect season to serve these sizzling delicacies. You can always get a variety of beef skewers combined with mixed vegetables, chicken, different kinds of seafood, sausages, and so many delicious options. Don't forget to serve them with refreshing dipping sauces, like salsa, guacamole, tar-tar sauce, or lemon vinegar. There are endless choices for this type of grilled menu, so you're free to choose the best of your favorite dishes.
Don't: There aren't many restrictions for the main entrée for your summer wedding menu. However, you should avoid dishes that don't go well with hot weather, such as risotto.
Dessert
Do: Other than your wedding cake, your dessert table will easily grab all the attention. Ice cream or sorbet is a must-have for any summer wedding, paired with candy bars on the side so your guests can freely choose any topping they want. Although there's no specific limit on what flavors suit your summer wedding, you should consider providing fresh options like mango, berries, and lime.
Don't: There aren't any restrictions for dessert. But if you want to serve chocolate fondue, opt for an electric fondue instead of the traditional fondue that melts the chocolate with candles. The traditional method melts chocolate with an unstable temperature, making it difficult to manage, especially outdoors.
Beverages
Do: If you've decided to have a sunny wedding, you should serve refreshing drinks such as cold water infused with different kinds of fruits and mint leaves, lemonade or ice tea, or sparkling fruity drinks. Remember to have them stored in an ice box, ready for your guests to cool down from the summer heat. If you want to have alcoholic drinks, serve cocktails in small, pretty glasses which also work well as decorative items.
Don't: Heavy alcoholic drinks aren't suitable for a daytime celebration. High consumption of alcohol will increase the body temperature, which is uncomfortable for an outdoor day celebration. Keep the heavy alcoholic drinks for your after-party at night.
Have an indoor wedding in summertime
(Photography: via weddingandweddingflowers.co.uk)
Sure, summertime is known for its outdoor weddings with beautiful natural views, but you can always celebration your wedding in a ballroom, at a villa, or even a beautiful greenhouse! Compared to an open-air wedding, an indoor wedding has fewer wedding emergencies that could happen on your big day. These are five reasons why an indoor wedding in the summer can be just as beautiful as an outdoor one.
1. Worry-free weather
This might be the best advantage if you've decided to throw an indoor wedding party. Regardless of the weather, whether it's hot and sunny, raining heavily, or even if there's a tropical storm, you'll be able to celebrate your wedding peacefully. You won't have any hair frizz, messy décor, and makeup disasters you can get on a windy day.
2. Bye-bye bugs
With weddings held indoors, you won't have to experience any insect problems. You can have a convenient wedding party free from crawling and flying bugs, which is something that we're sure will make your guests happy too.
3. Cool and comfy
Other than being bug-free, an indoor wedding gives you and your guests easy access to air-conditioners and clean restrooms for your guests. You can also easily control the ambiance as your guests will not be scattered around the wedding venue aimlessly. Instead, they will only focus on your scheduled wedding agenda.
4. A winner for privacy
A wedding in an indoor venue will give you the benefits of having less distraction from the noise outside. This is a good place for you to have a private moment with your guests. Your wedding day documentation will also be better, as your venue will be restricted and especially reserved just for your wedding.
5. Unlimited décor ideas
Now, this is the fun part. You won't have to limit your creativity or any plans you had for your dream wedding. You can have any kind of wedding theme you want. Take some cues from this couple's classy indoor wedding that brought together an enchanting garden and comfortable air-conditioning. You can also be inspired from this couple who perfectly held a glamorous indoor garden wedding in Santa Catarina, Brazil. We've even prepared more wedding flower ideas from famed wedding decorator, Lotus Design for your indoor wedding.
Give the perfect summer wedding favors
Last but not least, the wedding favors and gifts for your wedding guests. There are plenty of choices for wedding favors in the sunny season. A little tip that might help: put your summer-thinking-cap on and think about all the things that this season can't be without, which is exactly how we put together our list. Click through the slideshow below and find your favorite wedding favors.
Photography: Belle and Chic, Elizabeth Anne Designs
Photography: Anna K, Martha Stewart Weddings
Photography: via Could I Have That, via Mnbride.com
Photography: Jose Villa, via Popsugar.com
Photography: via Style Me Pretty