Most brides don't realize that weddings are one of the biggest contributors of environmental waste. Believe it or not, the average wedding in the United States produces a total of 62 tons of carbon dioxide and 400–600 pounds of garbage, all in one day! With an eco-friendly wedding, you can have a meaningful celebration while still considering the environmental impacts. Planning one is actually not as hard as you might think once you've learned the simple tricks to make it happen. Before we get to that, let's cover some basics.
What is an eco-friendly wedding?
Eco-friendly weddings go by many names: green wedding, eco-conscious wedding, sustainable wedding, eco-chic wedding. No matter what you want to call it, an eco-friendly wedding is a wedding celebration in which the couple tries to decrease the negative impacts of their event on the planet. This is done by consciously thinking of ways to reduce the amount of waste produced during the wedding. Does it mean that green weddings are less beautiful? Not at all! Green weddings can be as pretty and meaningful as any other wedding, sans the waste.
Why should I have an eco-friendly wedding?
World leaders have slowly made efforts to protect the earth against global warming and other environmental issues, but they won't make as much of an impact if we don't do our own part as individuals. By having an eco-friendly wedding, you can reap three kinds of benefits: environmental, social, and financial benefits.
We've agreed before that weddings produce a lot of waste. From where, you ask? That bleached white dress you'll only use once in your lifetime, those beautiful yet chemically-treated flowers, not to mention all the leftover food and drinks, and all the garbage they produce. Deciding on green options for your wedding will directly reduce the negative impacts to the environment.
Up next are the social benefits. Having a eco-conscious wedding is a great opportunity to support companies that actively produce sustainable products while also encouraging other companies to incorporate social and environmental responsibilities in the way they do business. Deciding on green choices and communicating about them to your vendor and guests will make them more aware of environmental issues, and that is exactly what you're aiming for. Last but surely not least, the reason that might make you tick, are the financial benefits. Being green can actually save you money, and in today's economy, wouldn't that be a wise decision?
How can I have an eco-friendly wedding?
First things first, keep this in mind. Any environmentally-conscious decision results in one thing: less impact of waste to the environment. Remember that no matter how small it is, every green decision makes a difference. We've compiled some eco-friendly wedding ideas below that you can tweak to create a wonderful green wedding you'll love. Don't limit yourself to what's written here, though. If you have other eco-friendly decisions in mind, feel free to implement them.
Venue
Photography: Brumley and Wells - Christine Clark
A hotel or restaurant usually operates with lots of electricity, not to mention other not-so-friendly products when creating a glamorous wedding party. One way to tackle this is by taking your wedding outdoors. Outdoor weddings are on the rise these days, and finding a beautiful outdoor venue isn't a hard thing to do at all. A farm, meadow, or garden, you name it. You can even throw a laid-back wedding in your backyard! Plan a daytime wedding to take full advantage of warm, natural sunlight without needing too much electricity.

Photography: Steve Steinhard
If you really must have your wedding indoors, use only one venue to cut vehicle emissions. Using different venues for your ceremony and reception means requiring more transportation for you and your guests, which, in turn, means more carbon emissions. Also, find a venue that easily gets natural light from the sun so you can have a daytime wedding, lights off. Studios and glasshouses would be perfect for this. Another alternative is to have your wedding in socially- and environmentally-conscious hotels, museums, cultural spaces, or galleries.

Stationery
Photography: via Designmodo.com
Stationery is mostly made from paper, and paper comes from trees. So, the more paper you use, the more trees you'll be wasting also. That's not all; the process of making paper itself pollutes the environment. To tackle this, take your wedding invitations online. These days, many wedding vendors offer e-invitations or even wedding website services, so you don't have to worry about paper invitations anymore. Having a "wedsite" or wedding website also enables you to have your dress code, accommodation and transportation options, map, and other wedding-related information all in one easily-accessible place. Another perk is that it will significantly cut your invitation budget, as you won't need to print a single thing. Try to avoid using email invitations as they can get lost in your guests' inboxes and elderly guests might not even have email addresses to begin with.

Photography: Lisa Seizing for Abby Jiu - via Martha Stewart Weddings
If you still want to use paper for your wedding invitations, thank you cards, and other wedding stationery, opt for recycled paper or even seed paper so your guests can plant them afterwards. If you can, try using vegetable-based dyes for your invitations; they look elegant yet are more environmentally-friendly than regular ink.
Flowers and Decoration
Photography: via projectwedding.com
Flowers for weddings are mostly treated with chemicals and pesticides. They're also usually cut especially for the wedding. In the end, this will create a lot of waste after the wedding ends, as all those beautiful flowers will end up in the trash can. Some guests might take the flowers home, but without the roots, it will only be a matter of days until they wilt and die. You can just skip the flower bouquet entirely and use more interesting alternatives of non-floral bouquets like these ones.

Photography: Ashley Kelemen - Milton Photography
For your wedding decoration, you can also forgo the flowers. There are plenty of other decoration options you can implement that are no less pretty. Candles are such charming alternatives. The way they illuminate the whole room and bring a dim yet elegant glow will definitely make your wedding more atmospheric. Not many brides know that standing or table candle holders are actually a mighty fine piece of decoration element, so use them well.

Photography: Ruth Eileen - Rachel Whyte
If you still want to have some flowers on your wedding, always use in-season flowers and ones that are not drenched in chemicals. Ask your wedding florist to use local flowers instead of imported ones, which not only cost more but also have produce carbon emissions. Florists that are Veri Flora-certified use less chemicals so be on the lookout for them. To use flowers cleverly, put potted flowers as your centerpiece. This way, you and your guests can easily take them home afterwards for proper nurturing. You can also use home-grown flowers and re-use your ceremony's flower décor for the reception.

Photography: Kacie Quesenberry - Perry Vaile
Use organic-dyed materials as table cloths. Flax, linen, and burlap would be perfect for this. You want to go greener? Use no table cloths at all. Glass table tops are a great modern choice for any wedding. Add in LED lighting (which is low in voltage yet creates a bright glow) and you'll have yourself a wonderful set. For other decorations, try to use what you already have and reuse whenever you can.

Food
Photography: Josh Gruetzmacher - via Style Me Pretty
When it comes to food, look for a caterer that uses locally-grown food. Locally-grown food needs less time in the fridge and less packaging to stay fresh. As a result, there will be less trash and electricity. Also, since the food comes from nearby, there will be less carbon emissions. If you have the budget for it, go organic. It will be a bit more expensive, so make sure you've calculated the expenses for this option. The next step when planning your menu is limiting the number of courses for your dinner; a reduced course means less food trash.

Choosing in-season produce also helps, as out-of-season fruits and veggies are grown in heated greenhouses. If you're planning a summer wedding, stay away from winter favorites like acorns or butternuts. Use friendlier ingredients like zucchini and eggplants, for example. For drinks, use freshly squeezed fruit juice, and choose organic wines and champagne for your alcohol fix. Lastly, avoid using disposable plates. Even better, make the containers edible so nothing is wasted.
Wedding Cake
Photography: Linda Lomelino - via dollyandoatmeal.com
If you decide to have a wedding cake, find a baker that uses organic ingredients and local produces to create a vegan wedding cake. Brides often refrain from having a vegan cake, fearing that it won't be as tasty as a regular one. Well, on the contrary, some even say that vegan cakes taste better than regular ones as they are usually lighter and not as sweet. After all, you can always conduct a cake tasting first so you don't have to worry about how the it tastes. Presentation-wise, it will definitely look as sweet and pretty.

Photography
Photography: Jonas Peterson
As film photography has made a comeback especially for weddings, photographers who shoot film have been in high demand. Unfortunately, developing film photos uses a lot of chemical and produces a lot of paper waste. Try to use digital photography instead, store the files securely, and print only the ones you wish to display. It doesn't only help the environment, it's also a lot easier on your pocket. Already fell in love with that warm "film look"? Don't worry, many digital photographers can create a similar look using post-processing effects. Just find one who specializes in film-inspired photography and talk about the you want. This doesn't mean you should choose your photographer simply based on their effects, though, as what's important is that you're comfortable with their style and composition in the first place.

Favors
Photography: via The Knot
Let's face it, no matter how cute your favors are, many guests will only throw them away in the end. To top it off, the packaging (which mainly consists of plastic, metals, and fabric) is hard to produce and get rid of. One thing you can do is ditch favors altogether and donate for an environmental charity instead. To thank your guests for coming, ask them to pick the charity you should donate your money to. This way, they will feel appreciated and still have a say in the decision as well.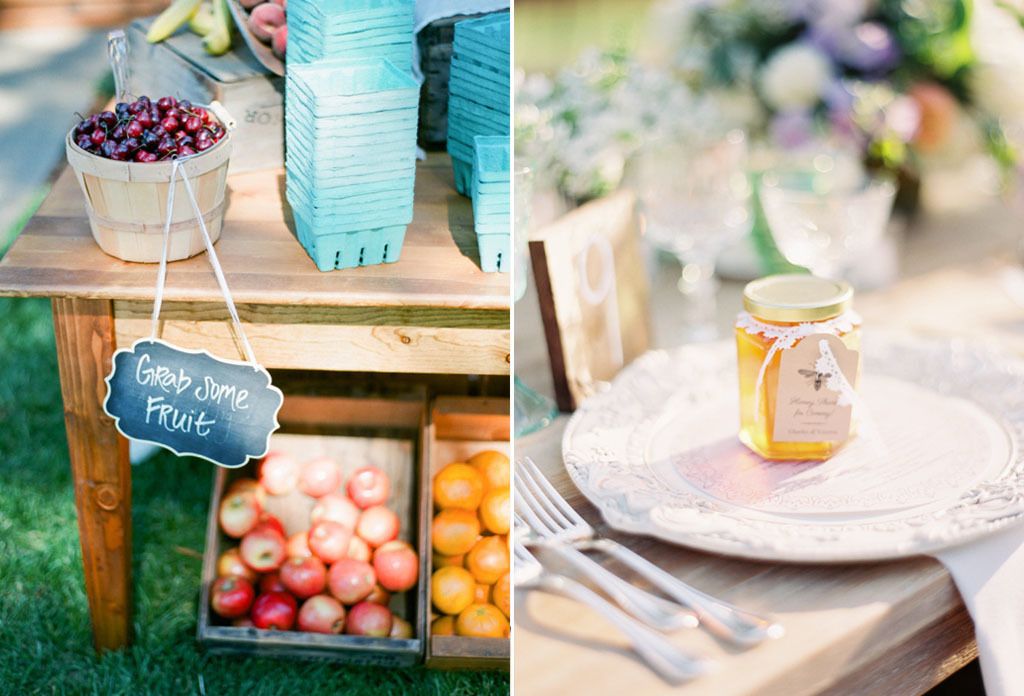 Photography: Lane Dittoe - Erich McVey
If giving a physical wedding favor is important for you, opt for edible favors. Option one, present some fresh fruits for your guests to take home. This would work really well for a ranch wedding but is versatile enough to be done on any kind of wedding. Option two, some jam or honey would also be wonderful green presents. Jam and honey commonly come in glass jars which can be reused, so nothing goes to waste.

Photography: Jen Rodriguez - Judy Pak
Another alternative to edible favors are plant favors. Present your guests with flower or herb seeds for them to grow on their own garden. If you can also give them a kit to go with it, even better. If not, succulents or potted centerpieces (as we mentioned before) will also be great favors as your guests won't need to go through the hassles of planting and go straight to nurturing instead.

Dress
Photography: Christine Clark
Last but not least is the wedding dress. You don't think your wedding dress is all that bad for the environment? Think again. Most brides have an all-new dress made especially for their wedding day. This dress, of course, uses a lot of fabrics and other materials to make. Fabrics also have to be created using electricity and to make it worse, you will only wear the dress once in your lifetime.

Ask your mother if she still has her old wedding dress. It would be perfect for a vintage look, while also being a great way to treasure a family heirloom. If your mother doesn't have her dress anymore, take a trip to vintage clothing shops for pre-worn dresses. If you decide to have a new dress made, find a designer who uses sustainable natural fabrics such as organic cotton silk or hemp. Or you can wear a dress or two-piece that's pretty enough to be used on your wedding day, yet versatile enough to reuse for other parties. Also do the same with your bridesmaid dresses. Ask the girls to put on something they already have instead of making a whole new dress. Give them some guidelines on length and color, and you're all set.
To sum it all up, here's an infographic of all the things you can do to create your own eco-friendly wedding.
Click here to download the image