For many couples, creating a wedding seating plan is one of the most daunting tasks in wedding planning. Especially since you need to wait until you've received all your RSVPs and finalized your guest list, it can be difficult to find some time to actually get down to it between the millions of other things you need to do. It's also not a task you can just do away with, as the lack of a proper seating plan can leave your reception in a chaotic mess.
But before you start planning anything, the first thing you should do is ask yourself, "Do I need a seating chart?" To help you answer that question, we've prepared a few points for and against creating a seating chart below.
Why you might not need a seating chart
1.There is no sit-down meal
First things first, you should decide on a reception style and menu for your wedding. If you've decided on throwing a cocktail party or a standing party with a buffet-style menu, you won't particularly need to create a seating chart.
2.Your wedding is very small and intimate
If you're planning a very small and casual celebration, like a backyard party where everybody knows each other well, you can just skip the seating arrangement as people will feel more relaxed and can easily mingle with all the familiar faces.
3.You have limited space
If you're inviting hundreds or even thousands of guests but your venue doesn't seem big enough to accommodate all the tables and chairs for them, you should opt for a standing party instead of a sit-down dinner.
4.You have an irregular seating layout
If your venue has a variety of different tables and seating options such as large tables, couches, benches, or even rugs like at this homey wedding, just leave out the seating chart and let your guests choose the seats they are most comfortable with.
Why you might need a seating chart
1.You're planning a sit-down meal
If you're planning to have a full course dinner, especially one with a pre-selected menu, having a seating arrangement planned is a must to ensure all your guests can feel at ease without having to fuss over seats.
2.Your venue is large enough to accommodate seated guests
Having a sit-down wedding reception will definitely give your celebration an elegant feel, but it also requires a lot of space. If your venue is big enough to fit all the tables and chairs required, we don't see why you shouldn't have one.
3.You want to have a drama-free reception
By having a seating chart, you can avoid unnecessary drama and awkwardness during the reception. You surely wouldn't want to see couples sitting at different tables or clashing family members sitting next to each other because they happened to come in late.
4.It actually benefits both you and your guests
As you are the one who probably knows all or most of your guests, you can help them enjoy the party by arranging dinner companions with whom they share common interests. For your single friends, it's a good chance to set up a blind date for them.
Wedding reception seating styles
If you've decided to plan a seating arrangement for your wedding day, read on to find out about the different seating styles you can choose. The type of seating style you choose depends on your venue and the kind of party of you want to have. In short, meticulously assigning each guest to a specific seat is the most time-consuming option yet it gives you the most control. On the other hand, giving your guests more freedom in choosing their seats is most suitable for more casual and intimate celebrations.
How to arrange your head table

With so many guests invited, arranging seats can be a really challenging task, and you can find yourself wondering, who should sit where? For the bride and groom, there are several options but wherever their seats are, they should be located at the focal point of the venue. Take some cues from popular head table seating arrangements below to give you an idea when arranging your own.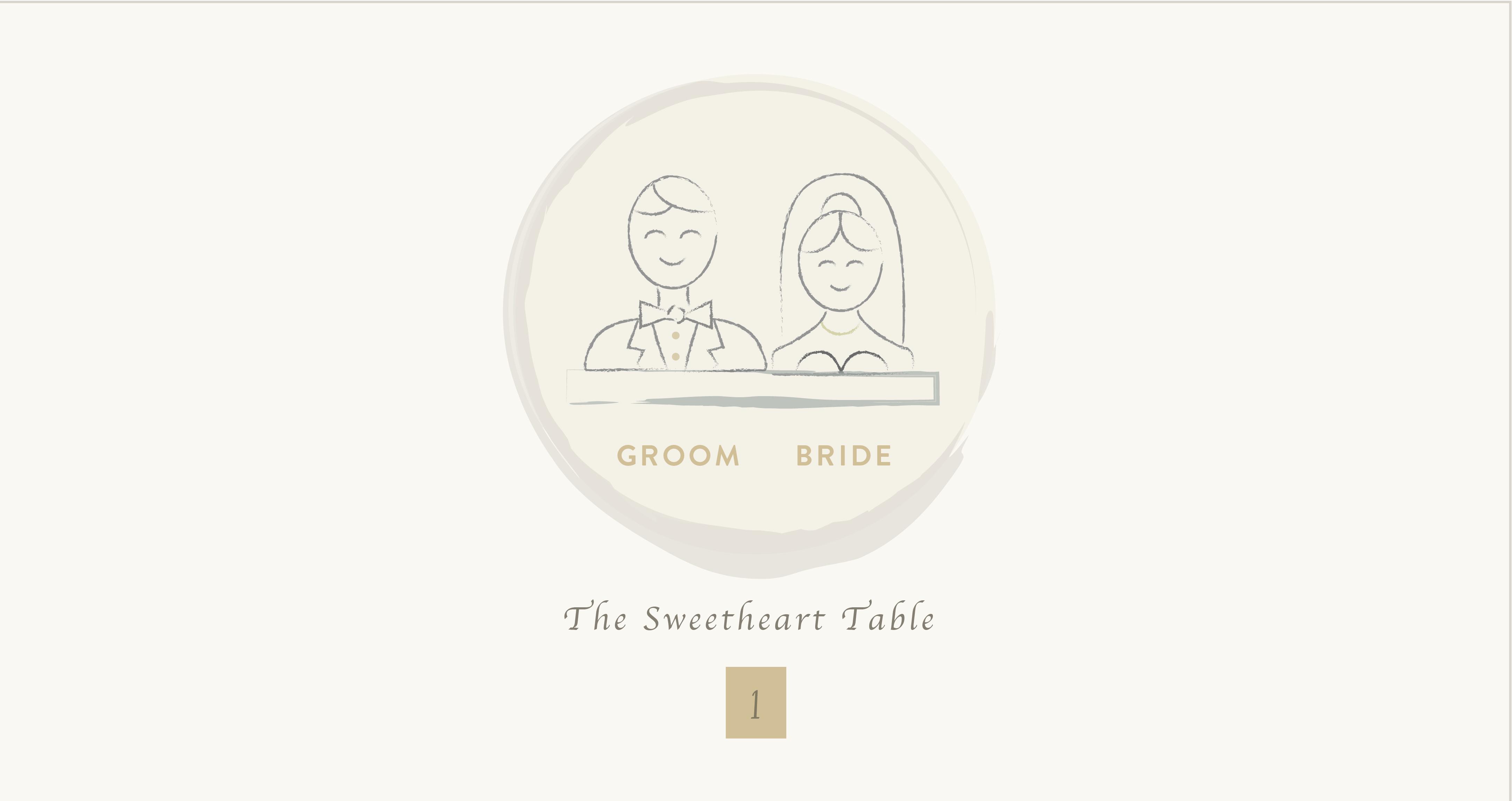 The dos and don'ts of creating a wedding reception seating chart
Now that you know how to arrange the head table for the bride and groom along with your closest family members, it's time to arrange the seating for all the other guests. This might be tricky, as your guests most likely come from different social circles including your best friends, school friends, colleagues from work, and friends of your parents. Don't forget that they also have different personalities, interests, and other characteristics that might make or break the whole atmosphere at each table. To make the whole process easier, try following the dos and don'ts below.
1.Do: Spread out the socialites
Everyone has friends who can break the ice easily. You know, the extroverts who always seem to make any party livelier. Assign them at separate tables to avoid an uncomfortable situation of having more than one of them competing for the spotlight with all the other guests smiling awkwardly.
2.Don't: Split up couples
One of the good things of planning a seating arrangement is that you can avoid the all-too-common situation in which couples are forced to sit separately because they mingled outside for too long or arrived late to find that there are no side-by-side seats left.
3.Do: Group the children together
If you're hosting a kids-allowed reception, you can group families together during dinner and provide simple entertainment like crayons and coloring pages. Another option when you have enough room is to set up a kids-only table with some fun games and a babysitter near the parents' table.
4.Don't: Be afraid to mix and match
Even if you shouldn't separate couples or mix your single friends with families together, there's still some mixing and matching to be done. You can mix singles and couples, and you can play matchmaker by cleverly pairing up suitable single friends next to each other.
5.Do: Be fair and thoughtful
There will always be good and less-than-good table positions. When arranging seats, you should fairly divide the tables between your family and your fiancé's family. To do it right, split the top-tier tables first. If you're planning a multicultural wedding, you should divide the seats at each table for both sides of the family so they can mingle.
6.Don't: Forget to be considerate
Chances are, some guests might have special requirements. You should separate them beforehand and prioritize them when preparing the seating chart. For example, families with children shouldn't sit close to the sound system and the elderly should be seated near the bathroom.
7.Do: Ask around when in doubt
It's good to ask for other people's opinions but make sure the one you ask has a good understanding about the dynamics of your family and friends. Otherwise, you could end up seating together two distant family members who dislike each other.
8.Don't: Forget to ask your parents
If you've decided not to follow the traditional arrangement for your head table, you should ask each set of parents whether they want to host their own table. Who knows, maybe they would like to sit next to their close friends from their college days.
9.Do: Trust the professionals for the best arrangement
Consider the opinions of your vendors such as your caterer, decorator, and venue, as they are the ones who can answer questions about how to maximize your venue space or whether chairs are preferable to benches. If you want to take matters into your own hands, make sure you prepare at least 60 inches (152 cm) of distance in between tables.
10.Don't: Fear having too many guests
In most weddings, your guests will focus on your wedding for around 90 minutes. If you're planning a three-hour reception with a six-course meal, it would be better to allow plus ones for your single friends or those who aren't really familiar with most of the other guests. Make sure to limit up to two guests for each invitation.
11.Do: Sit energetic people near the dance floor
You surely know the ones who are going to start stomping their feet as soon as the music starts. To have a lively wedding reception, place the dancing queens closest to the dance floor so they can lead the way for all the other guests.
12.Don't: Forget to be flexible
No matter how perfectly you've arranged everything, there's always a slight chance that something unexpected will happen. Maybe one of your best friends suddenly couldn't come because of an emergency, and you have to rearrange the seats. Keep a few blank seating cards to write down some names and be prepared to do some last-minute arrangements if needed.
What you need to create a seating chart
You've learned about all you need to know to create your own seating chart, so let's get to it. If you've decided on a seating style already, prepare these essential tools to start creating your chart.
Step-by-step guide to create a wedding seating chart
1. Group your guests based on category with different colored Post-it flags. We suggest labeling guests into at least four categories: your family, his family, friends, and co-workers. If you and your future-spouse work in different offices, it would be better to separate your co-workers into different groups as well.
2. Start making small groups of 2–4 people and keep them close together when you move them around. Decide right away whether you want to assign by seats or tables only. If you have rectangle tables, also decide whether you want to use the end caps or not.
3. Figure out which names to prioritize and start allocating their seats. These are usually seats located along the aisle or seats close to the stage.
4. Play around with your chart, keep moving the names when you feel it's not the best arrangement, and be patient as this isn't an easy task.
Place cards, escort cards, and other creative ways to guide guests to their seats
In general, there are two ways to guide your guests to their tables: place cards and escort cards. These days, the terms are often used interchangeably, but they actually mean two different things. Escort cards have the guests' names and table assignments written on them and are usually arranged in a bunch near the wedding entrance, whereas place cards are found on each guest's table. You can use either one or both to avoid a messy lineup as guests struggle to find where they are seated. We've compiled some fun and creative ideas for your escort cards and place cards below, along with ways you can tie them up with your wedding theme.
Photography: Jose Villa, Chelsea Nicole Photography
Photography: Mariannce Taylor, Milou and Olin
Photography: Anouschka Rokerbrand, Anne Robert
Photography: O'Malley Photography, Jana Williams Photography
Photography: Esther Sun, Virgil Burnao
Photography: KT Merry, Caught the Light
Photography: Danielle Poff, Jeff Youngren
Photography: Caroline Tran, Jessica Kettle
Photography: Lyndsay Undseth, One Love Photo
Photography: Amanda Wilcher, Honey Honey Photography
Photography: Kristina Lorraine, Raquel Reis
Photography: Ashley Seawell, Isabelle Selby
Photography: Kat Braman Photography, Matt Edge Photography
Photography: via Pinterest, Matthew Robbins
Photography: Collin Cowie Weddings, via Brideandblooms
Photography: Brian Dorsey Studios, Jeremiah and Rachel
Photography: Joann Arruda, Jessica Lorren Organic
Photography: Jose Villa, Sally Pinera
Photography: Christian Oth, Amy Arrington
Photography: Laurel McConnell, via Pinterest