So you've booked your dream venue, and now is the time to decide on which florist to hire and what kind of flowers to use in your wedding. Well, you're in luck, as today we'll guide you through all the basics of wedding flowers, from finding the right florist to reusing your flowers after the wedding. Now, before you make any major decisions, take some time to consider the following.
How do I decide on a florist?
First things first, you should consider how important flowers are to your wedding before you even start looking for a local florist. Think about which parts of your venue would need flowers and decide on who you'd like to assign to handle all flower-related matters.
Next, figure out how much you want to spend. Try to do some research beforehand and get an idea of the price ranges for different flowers that you're considering. You might want to ask the pros or friends who just got hitched recently to get some information. A flower's price is mostly determined by a few factors like the season and whether it's local or imported.
Now you can start thinking of what kind of style you want, then start looking for florists. The most suitable time would be 6 to 9 months prior to your wedding. Compile a few ideas, set up appointments with a few florists who suit your preference, then start making comparisons. If you're still not sure about the type of floral design you like, take a look at the inspirations we've compiled for you below.
Types of wedding florists
(Credit: 123RF)
1. Retail florist
These are all the street shops you can find around the corner, that mostly sell bouquets and simple floral arrangements. They are good for small orders, but you might find it hard to entrust your wedding decorations to them.
2. Floral designer
If you're planning an intimate wedding with up to 300 guests, relying on floral designer might be the best choice. Floral designers specialize in creating bouquets, boutonnieres, floral centerpieces, also table and chair decorations. You can also ask them to make a custom-made floral aisle and altar based on your wedding theme.
3. Full-service decorator
For a grand wedding, hiring a professional decorator is a must. You can give them your full trust, even if your venue has a few difficult spots. These talented people will help you all the wedding decor you've ever dreamed of come true. As most of them come from design backgrounds, they are also great people to discuss your overall wedding theme with.
Floral design styles
Photography: Bloomwood Florist
Photography: Blomstre Flowers and Gifts
Photography: Enchanted Fleuri
Photography: Flowersbyts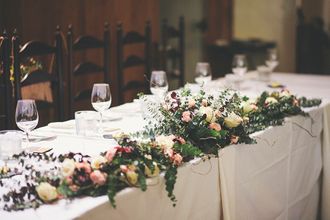 Photography: Fiona Treadwell
Photography: Fleurs et Feuilles
Photography: Maria Lamb Photography
Whichever style you choose, make sure that it represents you and your wedding well.
How to save money on wedding flowers
(Credit: Jessica Loren)
So you've found the floral that will suit your wedding theme and venue, and you've discovered the right vendor to make it all happen. That's great! But wait, did you realize that as you kept on adding new ideas, your budget was also growing out of control? To prevent that from happening, read our tips on keeping your wedding flower budget under control.
1. Use more greens instead of flowers
Using loads of fresh flowers can be costly, and adding more greenery to your decoration is an easy way to save. Do not be mistaken, greens are no less pretty than blooms.
2. Swap costly flowers with affordable alternatives
Some flowers cost more than others. Peonies cost more than roses, and lilies are more expensive than baby's breath. Swapping costly flowers with ones that cost less can save a lot without sacrificing beauty.
3. Include non-floral elements
To easily cut down your wedding flower budget, you also can use non-floral elements like lanterns, or crystals, or mirrors. Trust us, these decorative elements will add a different yet no less lovely touch to your venue.
4. Pick flowers that are in season
In-season flowers are easy to get. On the contrary, not-in-season flowers will be hard to obtain. If you insist on using them, your vendor will have them sent from another country, which means a higher price for you. If you don't know when your favorite flowers are in season, check out infographic below.
In-season flowers
Different flowers bloom in different seasons, so you should always consider the season before deciding on your wedding flowers. Once you get your wedding date set, check this simple guide to see all the flowers that are in season.
Click here to download the image

The do's and don'ts of wedding flowers
(Credit: Ben Yew Photography)
Sure, you can have different kinds of flowers in one wedding celebration, but you need to make sure that they won't clash. Ask your florist or decorator for some flower pairing recommendations that won't seem overwhelming.
Don't: Go over budget
Be realistic and choose flowers that suit your wedding budget. If using your favorite imported flowers will cost too much, try mixing them with artificial flowers or other decorative pieces.
Do: Pick tough flowers
Choose long-lasting and hearty flowers like calla lilies, baby's breath, tulips, lily of the valley, peonies, or hydrangea. These flowers are not only beautiful, but they also can stand the weather better even if you're having an outdoor wedding party.
Don't: Forget to consider the season
Avoid off-season flowers whenever possible. If your favorite flowers are not in bloom on your wedding day, don't force it as they will be a lot more expensive that in-season flowers.
Do: Time things right
Ask for your wedding flower vendor to deliver your order right before it is needed. The ideal time is one day before your wedding day. Ensure they are wrapped in cellophane or waxed paper to maintain each petal's moisture.
Don't: Take every matter into your own hands
You might be able to learn flower-arranging online these days, but you shouldn't get too ambitious and decide to take on all your wedding floral arrangements. Remember, you have plenty of other things to do before the big day.
Points to consider in a florist contract
Before you sign your wedding flower contract, make sure that these points are covered so you won't encounter any problems and extra charges afterwards.
Click here to download the image

Simple ideas for reusing your wedding flowers
(Credit: Ann-Kathrin Koch)
We're sure you're willing to spend quite a lot on wedding flowers to make sure that they will look beautiful on your wedding day. But have you ever thought about what will happen to those pretty petals after the wedding? Don't you think it would be a shame to let them all go to waste? Worry not, we've compiled six simple ideas to salvage and reuse your pretty flowers after the wedding.
1. Turn them into potpourri
If you're new to potpourri, you can try this mixture of scented petals in a pot or small pouch to perfume a room. They can also be a decorative piece in your new home. If you have tons of flowers left after the wedding, they need to be separated into individual petals and collected into a jar or bowl, then scented with your favorite oil-based aromatherapy. Here's a simple trick to dry your petals: just press them in between pages of a thick book and let them dry for at least 4 days.
2. Use them as home decoration
Fresh flowers can last for another few days if you keep them in a vase with water. So, you should find any unused water jugs and start to re-arrange your own table flowers. You can also give them away as favors for your guests.
3. Turn them into an everlasting wedding bouquet
There is now a technology that can keep your wedding flower bouquet in its pristine colors and shape forever. Although there are many techniques online that you can try, you can opt for an easier route by just going ask your wedding florist.
4. Twist them into wedding confetti
This would be the best option if your friend is planning get married in the near future. Rather than clipping colorful papers, using flower petals will give a fragrant touch to your friend's wedding. Another idea is to reuse your wedding ceremony's flowers petals as your reception confetti or floral arrangement, but only if you're sure that there's enough time to arrange them.
5. Utilize them for DIY projects
These flowers can be so useful for DIY lovers. You can stick dried flower petals to your wedding scrapbook. These petals will not only look pretty, but also become a vivid reminder of your wedding memories.
6. Give them up for donation
These days, there are many organizations that would happily arrange this for you. They will pick your flowers up at your wedding venue after the reception and distribute them to those in need on the day after; like homeless shelters, nursing homes, or hospitals.