If you've dreamed about exchanging sacred vows in a secluded garden on the ocean cliff or in a modern chapel with magnificent ocean backdrop, then AYANA Resort and Spa BALI will bring your dream wedding to reality. According to AYANA Wedding Team, couples are now taking their wedding more earnestly and wish to have an exclusive celebration. As a way to keep up with the shifting trends and to provide couples with a truly rewarding wedding experience, AYANA Resort and Spa BALI presents five new sea-surrounded venues for your most special day.
First up is their newly-renovated chapel which was originally built in 2003 and is considered as the world's most stunning chapel. Tresna Wedding Chapel can now accommodate up to 80 guests in a fully air-conditioned space, to create an intimate yet comfortable occasion that will be cherished forever. The new design features a sparkling see-through glass aisle with a flowing stone-lined river underneath, for the bride's majestic entrance. A magnificent glass altar, Swarovski crystal chandelier, and windows that gaze upon the Indian Ocean are also present to make your wedding ceremony all the more memorable.
For a light-filled sunset celebration, opt for the Ocean Wedding Deck that's located in AYANA Villa. The spacious deck can fit up to 200 guests for a sit-down dinner or up to 500 guests for a standing event. Couples and guests are guaranteed to enjoy panoramic views of Jimbaran shoreline from its secluded, cliff-edge location. A more intimate session with your loved ones wouldn't get left behind too with their private dining room and garden located just below the deck. The swimming pool and Jacuzzi located on the gardens will also elevate the romance of your wedding celebration.
Yet another spot you shouldn't miss is Kubu Beach, which is perfect for a truly unforgettable beach wedding. Guests are welcome to enjoy the sandy floors which will undeniably leave your guests in awe. The brand new cliff-side inclinator is also present to conveniently and quickly transport your guests to this hidden gem as well. Comfortable for a 50-guest wedding, Kubu Beach is definitely perfect for couples seeking an exclusive beach wedding experience.
Not a fan of sandy venues yet you still dream about a wedding surrounded by shimmering seas? Worry not as AYANA Resort and Spa BALI owns a private pier with sensational surroundings, known as Kisik Pier. The seemingly endless aisle of the wooden deck which stretched 30 meters out to sea and floats above the Indian Ocean is undoubtedly one of the island's most unique wedding venues. With a 360-degree setting of shimmering ocean view, the location can comfortably accommodate up to 60 guests.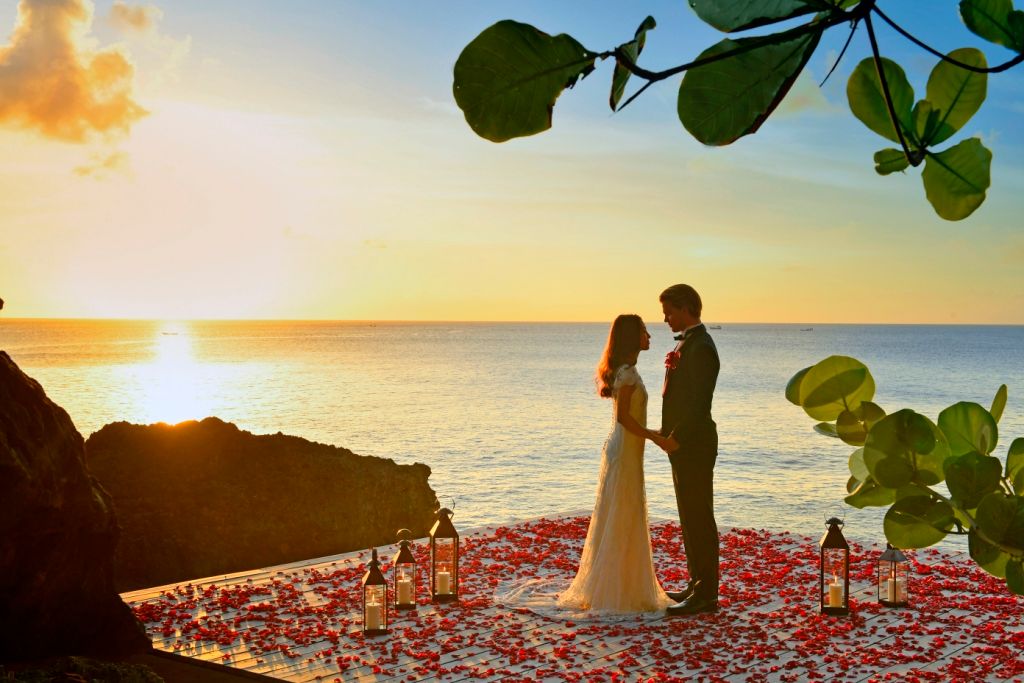 Finally, don't miss out on a chance on having an alfresco wedding reception at Rock Bar Bali, meters away from The Indian Ocean's sapphire waters. Their versatile catering menu and live music offerings will make your wedding even livelier, unforgettable, and of course, everlasting.
Aside from enchanting venues, the wedding team of AYANA will also help to create a bespoke, personalized wedding for you. They're not only internationally certified, but also strive to meet every detail of the couple's dream wedding. Your union as man and wife will begin at your chosen venue, so let the AYANA Resort and Spa BALI help you to maximize your wedding's potential and personal style to perfection.