Even though the Spring 2018 Bridal Fashion Week already ended earlier this week, we still can't get over all the beautiful dresses that paraded the runway. This season is all about channeling your personality and creating a look that is out of the ordinary. World-class fashion designers poured out their creativity into an array of classic wedding gowns with a modern twist, which are perfect for brides-to-be who want to make a statement on the big day.
Keep scrolling to see the stunning bridal collections by 10 top designers as seen on the Spring 2018 Bridal Fashion Week runway.
Elie Saab
Opulence and glamour; these two words came to mind when we laid our eyes on Elie Saab's latest bridal collection. This season, he drew inspiration from Japanese cherry blossoms and translated them into intricate floral patterns heavily embellishing his dresses. Aside from the gorgeous dresses, the renowned designer also showcased his craftsmanship by creating airy, beautifully-embellished veils and capes that complemented the dresses perfectly. That's not all; vine-like gold accessories were also present in the collection, adding yet another element of nature-inspired glamour to the whole ensemble.
Naeem Khan
When it comes to bridal fashion, Naeem Khan is not one to follow the latest trends. Instead, he focuses on what his brides really want. This explains why there were so different styles showcased in his latest collection. The one that really caught our attention was the leaf-embroidered dress with its glamorous faux fur cape. Another one that's worth a mention is the long-sleeve floral gown that would be perfect for feminine brides who want to look different on their big day.
No less stunning is the beaded jumpsuit, which looks out of place at first yet makes perfect sense once you know the philosophy behind it. "The idea is to think: who is this woman who wears my clothes? She wants to get married in an important dress and then she wants to change for the rest of the evening," explained the designer himself. Such a perfect after-party outfit, don't you think?
Carolina Herrera
For Carolina Herrera, a wedding is the most important day in the life of a woman. Therefore, the wedding attire should always rise to the occasion. "It has to be romantic, it has to be feminine, it has to be ethereal, it has to be dreamy—it doesn't have to be sexy," she said. Her bridal collection for this season certainly fits the description. A simple white dress quickly stole our hearts thanks to its big statement bow at the back. Another stunner is the strapless ball gown with rows of delicately embroidered petals. "We have to keep the girls happy!" said the designer. Not a dress but worth the extra attention is a blouse-and-trousers combination, perfect for the chic contemporary bride.
Jenny Packham
Presented on a circus-themed runway, Jenny Packham's latest bridal collection is somewhat unusual yet glamorous all the same. "Our brides have always been a little bit alternative, girls who want to create their own outfits," the British designer said.
Among rows of glittering white dresses with sequins and fringes were bold gowns in daring scarlet red. According to Ms. Packham, these red dresses represented the idea of being daring and taking risks in bridal fashion. Surely, we can all agree that each of Jenny Packham's wedding dresses are graceful and feminine, yet fun at the same time.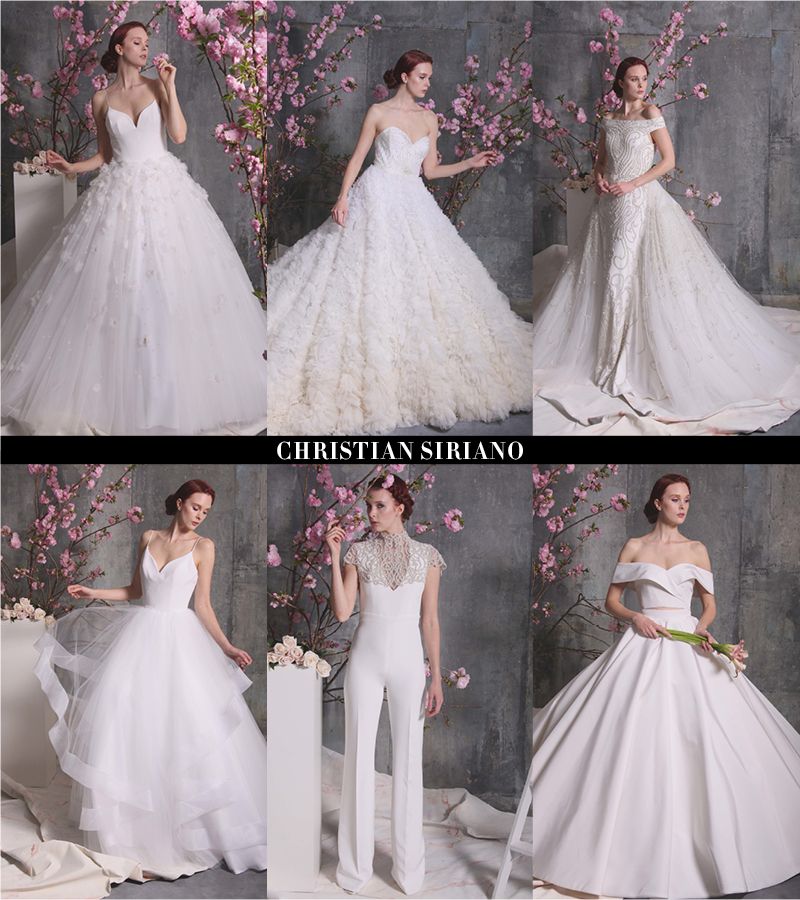 Christian Siriano
According to Christian Siriano, his Spring 2018 collection is less about trends and more about what the bride really wants; which means romantic through and through. An array of dresses with floral embellishments and enchanting full skirts were present to suit any bride's fairy-tale wedding. The dress that really stood out to us is a silk two-piece wedding gown with an off-the-shoulder top and voluminous ball gown skirt. It's a mix of classic and modern, the best of both worlds.
Viktor & Rolf
After debuting their bridal collection last fall, Viktor & Rolf's is gaining more popularity among fashionable brides-to-be. Perhaps it's their balance of modern and classic that really appeals to every kind of bride out there. Their signature handmade flowers graced the wedding dresses and veils, adding a sense of drama and romance.
For a classic wedding dress with a twist, take a look at the satin ball gown paired with an oversized bow in the front. Another one that you might like is the ball gown with asymmetrical ruffled layers. Brides looking for something with less volume can opt for the simple jumpsuit or the sheath dress with an interesting ribbon details at the back.
Marchesa
This season, Georgina Chapman and Keren Craig of Marchesa defied the unspoken rule of not wearing black on the wedding day. Many of their gorgeous dresses were paired with some sort of black accessory or detail, such as a black ribbon choker that draped down to the bottom of the dress. The dresses themselves were based on a classic wedding gown silhouette. Some dresses that really stood out include a strapless gown with an asymmetrically-ruffled skirt, an off-the-shoulder bow sleeve dress, and an off-the-shoulder dress with three structured layers.
Oscar de la Renta
The late designer, Oscar de la Renta was known for adding intricate floral details to his designs, inspired by his own spectacular gardens. Thus, for their first bridal show, Fernando Garcia and Laura Kim paid tribute to his legacy with flowers and other natural elements. Ferns, vines, and leaf patterns could be spotted embellishing the beautiful dresses, creating feminine and elegant looks that characterize an Oscar de la Renta bride.
Aside from dreamy dresses, you can also find modern jumpsuits and other outfits as a fitting alternative to the classic look. One outfit that you may find interesting is the ode to Sarah Jessica Parker, consisting of a sleeveless top, a crinoline skirt and a white denim jacket with the words "Just Married" embroidered on the back. Though it won't suit every bride, it certainly brought a breath of fresh air to bridal fashion, don't you agree?
Reem Acra
Lebanese designer, Reem Acra's latest bridal collection celebrated her collaboration with iconic jeweler, Tiffany & Co. The dresses were inspired by a large yellow diamond, also known as the Tiffany Diamond, which hasn't been removed from its case in years. In fact, the last person to wear the diamond was none other than Breakfast at Tiffany's star, Audrey Hepburn!
After studying and sketching the diamond, accompanied by four security guards, the talented designer came up with these beautiful wedding gowns. Twelve black dresses opened the show; one that we particularly love featured long black gloves with puffed elbows. Puffy sleeves were also present on the off-the-shoulder white dress pictured above. Another dress that stole our attention was the silky ball gown with butterfly embroidery on the bodice. Would you wear something like this on your wedding day?
Vera Wang
For her latest bridal collection, Vera Wang pushed the limits of bridal fashion. "I wanted to offer my clients a different viewpoint. I felt frustrated by what is typically thought of romantic," she explained. "It's a total exploration of viewing a wedding gown in another context, but still being relatable to modern, young women," the designer added.
As a result, came an array of wedding dresses that was focused on sleeves and asymmetry. There are still gowns for the wedding purists who yearn for a classic cut and look. However, Vera Wang really worked her magic when she created a body-skimming dress with an exaggerated sleeve on side, a tulle sleeve on the other, and an oversized black flower on the shoulder. "I'm trying to push in a different direction," she said.