Photography: Justine Milton
Engagement rings have made many a dream come true, and it's easy to see why. Aside from being a symbol of one's devotion and lifelong commitment, engagement rings are undeniably beautiful. One of the earliest engagement rings actually dates back to the late 1400s, when Archduke Maximilian of Austria proposed to Mary of Burgundy with a ring set with thin, flat pieces of diamonds forming the shape of an "M".
Even to this day, no wedding proposal feels truly complete without an engagement ring. As you only wear one engagement ring in your lifetime, it comes as no surprise that choosing one can be so intimidating. There's no need to worry, though, as we've prepared some simple guidelines for choosing the perfect engagement ring. Whether you're planning to present an engagement ring to the love of your life or anxiously waiting for your very own, make sure to go through this post carefully.
Traditional diamond engagement rings
Diamonds have been considered as an essential part of engagement rings for so long that most people consider them to be inseparable. Buying a diamond ring, however, is not as simple as choosing the biggest rock you can find. When we're talking about diamond rings, we need to talk about the 4C standard, which is the first globally-accepted standard for determining diamond quality. Sounds complicated? Don't worry, we've compiled all the necessary information in a handy infographic below.
Click here to download the image
Now that you've understood about the 4Cs, it's time to pick a diamond shape that suits you most. As the most popular shape in the wedding world, round diamonds are indeed beautiful. However, we think it would be even better to pick a shape that truly says you. Take a look at the infographic below to see which shape might suit your personality best.
Click here to download the image
How to care for diamonds
Even though diamonds are strong, it doesn't mean that they're indestructible. In fact, diamond jewelry should be taken care of by following these simple steps regularly.
First, clean your diamond by soaking it in an ammonia-based cleaning solution overnight. The following morning, brush your diamond with a soft-brittled tooth brush. Pay extra attention to the back of the diamond, as it is usually the area that has collects most dirt. Be careful to not brush your jewelry too strongly, as doing so might loosen the prongs. Also, don't use chlorine or other abrasive chemicals. Too much of a hassle for you? You can simply take your diamond ring to a trusted jeweler for cleaning from time to time.
Next, don't wear your diamond jewelry when you're doing rough work or going to the gym. Again, diamonds are not indestructible. They can be chipped by a hard blow. Don't forget to also check the setting once every six months to make sure it's not loose, especially if you have a large diamond.
Third, take off your diamond jewelry when you're doing household chores, cooking, and putting on lotion, perfume, or sunscreen. Always store your diamonds in a fabric-lined jewel case. Try to keep your diamonds separated in different boxes or compartments and not jumbled up together, as they can scratch other jewelry and scratch each other too.
Non- traditional engagement rings
A classic engagement ring with solitaire diamonds in a platinum mold is a foolproof choice for most people, but brides with an edgier taste might prefer something different. Worry not, we've collected a range of stunning, non-traditional rings that will appeal to those with slightly more unique preferences.
This lineup features engagement rings with colored gems, from topaz to turquoise, and offbeat settings, like geometric shapes and irregular cuts, that are perfect for the unconventional bride. Aside from looking modern, these rings will add a distinctive edge to the wearers and catch the eyes of anyone who glances upon them.
After all, every relationship and personality is one of a kind. Shouldn't an engagement ring that symbolizes the relationship be just as unique? Check out these beautiful engagement rings that we have gathered for you today, and let us know in the comments section if any of them became your new favorite!
Photography: Winsome and Wright
Photography: Winsome and Wright
Photography: Winsome and Wright
Photography: Winsome and Wright
Photography: Winsome and Wright
Photography: Winsome and Wright
Photography: Katie Stoops
Photography: Sally Pinera
Photography: Winsome and Wright
Photography: Sweetlife Photography
Photography: Sophie Epton
Photography: Winsome and Wright
Photography: Winsome and Wright
Photography: Winsome and Wright
Photography: Winsome and Wright
Photography: Winsome and Wright
Photography: Winsome and Wright
Photography: Winsome and Wright
Photography: Winsome and Wright
Photography: Winsome and Wright
Photography: Winsome and Wright
Vintage engagement rings
A vintage engagement ring is a ring that represents a particular style of a specific era. Do note that vintage rings differ from antique engagement rings. A ring can be considered antique only if it is of a certain age. Thus, a 50-year-old ring would be considered as antique, while a ring that displays characteristics of the art nouveau period would be considered vintage. A 50-year-old ring with art nouveau characteristics can be considered as antique and vintage.
What to consider when purchasing a vintage engagement ring
First things first, do not stick to the 4Cs when choosing a vintage engagement ring. When it comes to vintage rings, you need to take a look at the ring carefully and judge its beauty as a whole. Remember, a vintage ring carries so much historical and artistic weight. Relying solely on numbers and standards will cloud your judgment about the true value of the piece.
More importantly, consider your lifestyle when picking an engagement ring, as only certain rings are suitable for those with active lifestyles. For instance, the ladies from the Georgian era didn't have running water back in the day, so hand-washing wasn't done frequently at that time. Rings from this era have foil-backed diamonds and gems that can be easily damaged by water, so they should be kept dry whenever possible. If you consider having to take your ring off every time you wash your hands to be a hassle, then you should probably pick a ring from a different era. Alternatively, you can look for reproduction rings that are based on vintage designs yet have more modern materials.
Wearing a vintage engagement ring daily will inevitably expose it to various chemicals and other substances. Naturally, this will dull the shine and brilliance of the ring, bit by bit. That's why, a vintage engagement ring must be taken care of regularly. At home, you can soak your vintage ring with warm soapy water and use a toothbrush to carefully scrub away any debris.
Vintage ring eras
There are so many eras to choose from when you're looking for interesting, unique pieces of jewelry. Here are some of the most popular eras for engagement rings: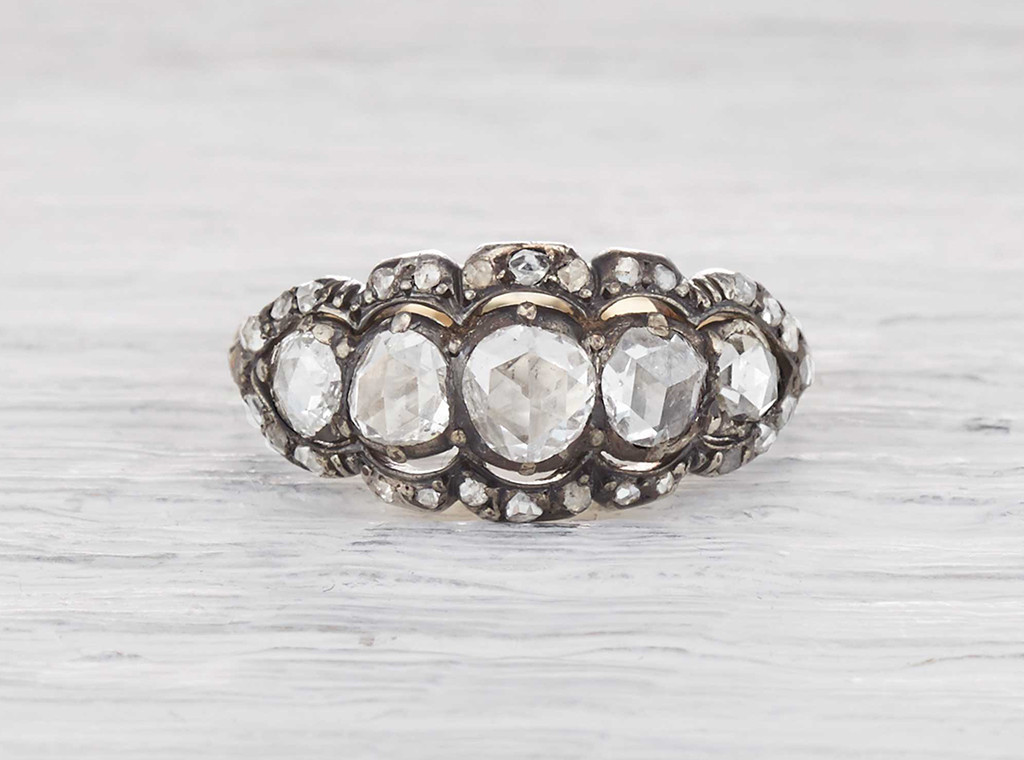 Photography: Via Erstwhile Jewelry
1. The Georgian Era (1714 – 1830)
Georgian rings are hard to find nowadays, yet they are some the most beautiful rings ever created. Georgian-era engagement rings usually have intricate metal works and Grecian-inspired designs.
Photography: Via thefancy.com - via Etsy
2. The Victorian Era (1837 – 1901)
As the name suggests, Victorian-era engagement rings reflect the designs from the era of Queen Victoria. Bows, ribbons, stars, feathers, and crowns were the most popular shapes and patterns of rings hailing from this era.
Photography: via Pinterest - via Trumpet and Horn
3. Art Nouveau Era (1890 – 1915)
Art nouveau rings have flowing lines and natural themes as their characteristics. The most common patterns revolve around insects, plants, and flowers.
Photography: via Martha Stewart Weddings - via Etsy
4. Art Deco Era (1915 – 1935)
Geometric designs are commonly used for art deco rings. Often quite unique and bold, engagement rings from this era are highly popular among modern-day brides.

Photography: via Luxatic
Resetting a heirloom ring
You don't need to head to your nearest vintage or antique shop to find a ring that has been passed down for generations as a family heirloom. Who knows, your fiancé might have such a ring that he wants you to wear. Heirloom rings can be a little tricky, however. On one hand, handing you an heirloom ring signifies trust from your fiancé and his family, and it also saves him a significant amount of money. On the other hand, though, the and shape of the ring might not be one that suits your dream engagement ring.
You're going to be wearing the ring every single day, so naturally it should suit your style, personality, and finger perfectly. If you and your partner have made a decision to reuse an heirloom engagement ring, consider resetting it. Here are some steps you should follow when resetting an heirloom ring.
a. Get permission
First, be completely sure that this move won't be considered disrespectful by the owner of the ring. Before you tear an heirloom ring apart, discuss your intentions with the person who gave it to you, whether it's your fiancé or any of his family members. This shows that you truly respect the ring's heritage and genuinely want the owner's blessing. State clearly that you feel honored and grateful to receive the ring, then disclose the reasons why you want the ring to be remodeled. If the heirloom ring has been unchanged for generations and your proposals aren't approved, then it would be best to just keep it the way it is.
b. Find your jeweler
Make sure that your jeweler has professionalism and care, aside from skill and expertise. The heirloom ring might be flawed and fragile on a few spots, so you want your jeweler to handle it with extra care. Also, involve your jeweler in the design process. Discuss your creative vision for the engagement ring and ask your jeweler whether it's really possible. If not, listen to the other ideas they might have in mind.
c. Think about the stone and the metal
Don't let the shape of the stone limit your options. For example, if you get a round stone from the heirloom ring, you can set it into a square-shaped setting to make it look different. Also, when choosing the metal, make sure it complements the color of your gemstone or diamond. Lastly, if you like the original metal the stone came with, the jeweler can melt it and shape it into a different setting for the stone.
Photography: Amy Arrington Photography
Engagement ring insurance
Considering your engagement ring's sentimental and monetary value, we're sure you don't want anything bad to happen to it. Aside from the other ways to take care of your ring that we've mentioned above, insuring your ring is something you should consider.
There are a few ways to insure your engagement ring. You can be purchase the insurance as an extension to your existing homeowners policy, or you can opt to insure the ring thorough a company that specializes in jewelry insurance. We personally think that the latter would be a better option, as it might offer better coverage than a standard homeowners policy.
Questions to ask before you choose a policy
Familiarize yourself with the fine print before you pay or sign anything, as different insurance policies cover different things. As a guideline, ask these questions to ensure that your jewelry insurance offers exactly what you want.
a. Is the ring covered if you lose it accidentally, or only if it's stolen?
b. How will the insurance company replace the ring? Will they give you a check or will they require you to purchase a replacement through a specified jeweler?
c. What if it's a unique piece or a vintage ring? How will the quality and size of the diamond be documented?
d. Is the ring insured to full cost of a fraction of it?
e. How will you need to prove the ring vanished when you make a claim?
f. Are there any circumstances that aren't covered?