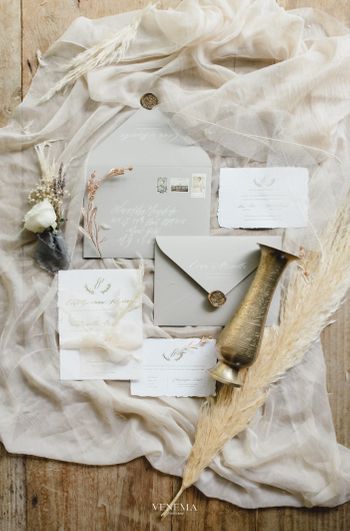 Photography: Venema Pictures
This couple's love story began one day in Melbourne, Australia. "We met at a friend's birthday party. Back then, I was about to graduate from high school and Evan was already in college," said Priscilla. His persistence soon won her over, and two eventually started dating. On their fourth anniversary, Evan brought Priscilla to their future home. "In one of the bedrooms, he had set up a projector showing photos from our time together," recalled the blushing bride. "He then got down on one knee in what will be our nursery room one day," she continued.
The pair were adamant on a delicate wedding color palette that consisted of white and gray shades. "We wanted to convey that marriage is vulnerability in its most beautiful form," said Priscilla. The bride quickly fell in love with Khayangan Estate thanks to its breathtaking views and traditional carvings made of gray mango wood. She then enlisted the help of Hilda by Bridestory to find other vendors to make her dreams come true. "Our wedding assistant was just like a fairy godmother! She kept us on a timeline and helped us to communicate with vendors," she continued.
On the wedding day, Priscilla had on a few different dresses, including a gorgeous lace gown by Bramanta Wijaya Sposa. "He knew exactly what I wanted and made my silhouette look incredible!" gushed the bride. "His sister, Mila Wijaya did my makeup. She complemented Bramanta's dress and gave me my bridal glow," Priscilla added. Meanwhile, Evan looked dapper wearing two different suits in the morning and a black tuxedo for the reception.
The reception area was beautifully decorated by Tea Rose Wedding Designer with a transparent tent, glamorous chandeliers, and lush white flowers. The tables were covered with gray linens and handwritten escort cards placed on top of vintage plates. We're also smitten by the naked wedding cake that perfectly suited the venue's rustic architecture.
Scroll back up to see all the wedding moments captured by Venema Pictures.