Traditional weddings have come a long way since the age of our grandmothers. Most couples still want to embrace their cultural heritage, yet the rules are less strict these days. Therefore, brides often seek creative ways to combine tradition with their personal touch and modern-day convenience, resulting in truly one-of-a-kind celebrations.
A relatively recent addition to traditional celebrations, bridesmaid attires are some of the most fun wedding elements to personalize. From classic attires complete with traditional updos to modern ethnic outfits, there's a combination to suit every celebration. We've collected 10 amazing looks from real traditional weddings to get you inspired to style your bridesmaids. Scroll to see our picks!
Full traditional attires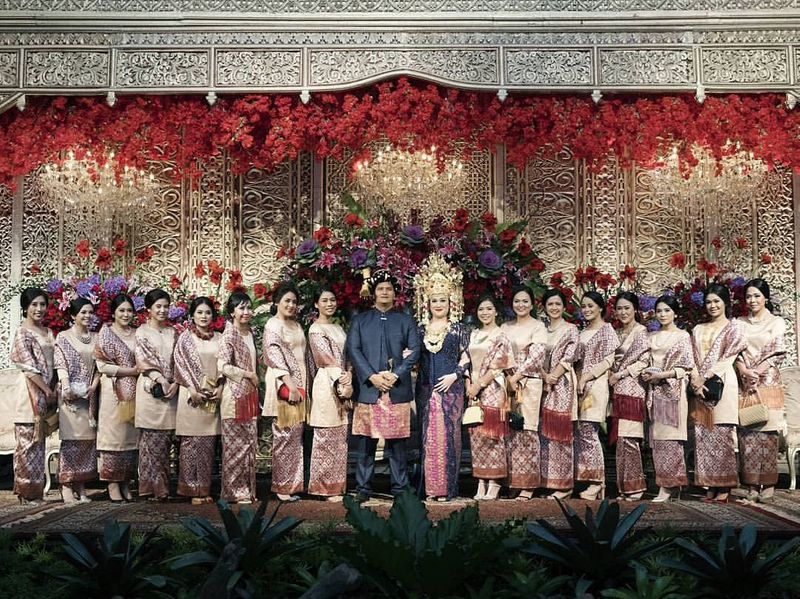 Go all out for your traditional wedding by dressing your bridesmaids in full traditional costumes. On this wedding, the groom had on a traditional Mandailing hat and the bride wore an authentic Palembangese headpiece. Meanwhile, the bridesmaids looked ravishing in the classic Sumatran combination of baju kurung and songket fabrics.

This lovely Bugis bride was surrounded by lovely ladies donning colorful baju bodo, each wearing her own intricate headpiece and necklace! Simply draw inspiration from your own culture when looking for a suitable outfit idea for your bridesmaids.
Kutu baru kebaya
Originating in Central Java, the kutu baru kebaya is a classic choice for traditional weddings. Today, it's one of the most popular kebaya styles for bridesmaids, thanks to its simplicity and gracefulness.
Get creative when choosing your kebaya material as the options are endless; lace, cotton, batik, you name it. You can also play around with different colors and patterns to create a combination that is truly your own. Trust us, your bridesmaids will love this look.
If you want something a little different, consider dressing your bridesmaids in surjan-inspired kebaya. The surjan is mostly worn by Javanese men, but this simple can be modified to suit the ladies as well. It's also a great idea for modest bridesmaids who wear hijab.
Vintage floral patterns
Brides throwing a traditional wedding with a vintage flair should opt for pretty floral kebaya as pictured above. The color choice is important for this one. Bright, vibrant colors will bring about a sense of playfulness, while soft colors will evoke a more romantic atmosphere.
Modern tops with traditional fabrics
Another popular choice for modern-day bridesmaids is to pair contemporary tops with traditional fabrics. We love how the bridesmaids above paired off-the-shoulder navy tops with batik fabrics for a slightly sexy yet tasteful look.
You can also let your bridesmaids show their personalities by choosing their own style. To maintain a harmonious look for your bridal party, give them the same material and color.
Peranakan kebaya
This kind of kebaya, also known as kebaya encim or Nyonya kebaya, would look so beautiful in a Peranakan wedding. Take some notes from Inka and Gary, who dressed their bridesmaids in colorful kebaya encim that wonderfully suited their Peranakan wedding theme.
Neutral-colored attires
Bright and bold colors usually come to mind when you think of traditional weddings. However, more brides are combining traditional outfits and decorations with pastel and neutral colors lately. As these ladies show, muted colors can add a refined and elegant touch to the whole celebration.
Modern dresses
Who said the bridesmaids can't wear dresses instead of kebaya for a traditional wedding? If you still want your bridesmaids to have a traditional look, add something extra like floral embellishments or lace kebaya tops as outerwear, as pictured above!
Top-and-sash combination
Enhance your bridesmaids' traditional attires with a plain sash or shawl in contrasting colors. The photos above will give you some examples on how to the sash. We especially love the bridesmaid squad clad in batik tube tops and indigo shawls. So chic!
Veils
Aside from the ceremony and reception, many traditional weddings involve processions that are held before the big day. If they will be there to support you as well, have your bridesmaids dress for the occasion. For her traditional Gorontalonese wedding in Jakarta, Annie asked her girls to dress up in yellow attires and veils for her prayer ceremony.
Accessories
Aside from giving your bridesmaids traditional attires, it's also a good idea to gift them accessories to wear on the big day. If you look at the ladies above closely, you'll notice that each bridesmaid has a differently-colored brooch decorating her kebaya.
Another alternative is giving your bridesmaids matching clutch bags. Get inspired by Noel, who gave out colorful straw clutches for bridesmaids to bring to her traditional Javanese wedding in Yogyakarta.
Hair buns or traditional updo
If you're aiming for a classic look for your bridesmaids, ask them to put their hair up in a traditional updo or sanggul. These ladies look so lovely in their yellow kebaya kutu baru paired with simple sanggul updos adorned with flowers.
For a more contemporary look, opt for a simple hair bun instead. As you can see from the example above, your bridesmaids won't look any less beautiful with a simple bun paired with gorgeous Kartini kebaya.