Finding the perfect wedding dress can be hard, especially if your idea of a dream wedding is an intimate garden party or tropical destination wedding by the beach. After all, traditional wedding gowns with heavy layers of lace and tulle will be too over-the-top for the casual celebration you have in mind. On the other hand, it's not easy to find a simple dress that would still make you stand out in a sea of wedding guests.
That's exactly why today, we've selected eight minimalist, wedding-worthy dresses for all you brides-to-be who are looking for something different. With simple cutting and a huge dose of style, these amazing dresses will not look out of place in the wedding of your dreams.
Photography: Nirav Patel
Photography: Nirav Patel
Photography: Yann Audic for Lifestories Wedding Photography
Photography: Yann Audic for Lifestories Wedding Photography
1. Long and sleek
Even without intricate beading or any decorative details whatsoever, a long gown can still look pretty enough for an intimate celebration. If you love everything simple and sleek, this option is for you. We don't recommend wearing this kind of dress for a ballroom reception, however, as you can easily disappear without a wedding gown that really stands out.

Photography: Ciara Richardson

Photography: The Weaver House

2. Patterns
You might not associate patterns with simplicity, but this dress will change your mind. You don't need to cover a whole gown with elaborate beads and appliqués to make it beautiful. A few strategically-placed patterns and details are all you need to add dimension to a simple wedding dress.

Photography: Orange Photographie


Photography: Sarah Der Photography

3. Short
Thanks to its hassle-free length, the short wedding dress is a popular option for more casual brides. You might think that short dresses will you look too "cute" and not as elegant as you want. But as we've shown you above, a short dress can also look very modern, or even sexy when styled right.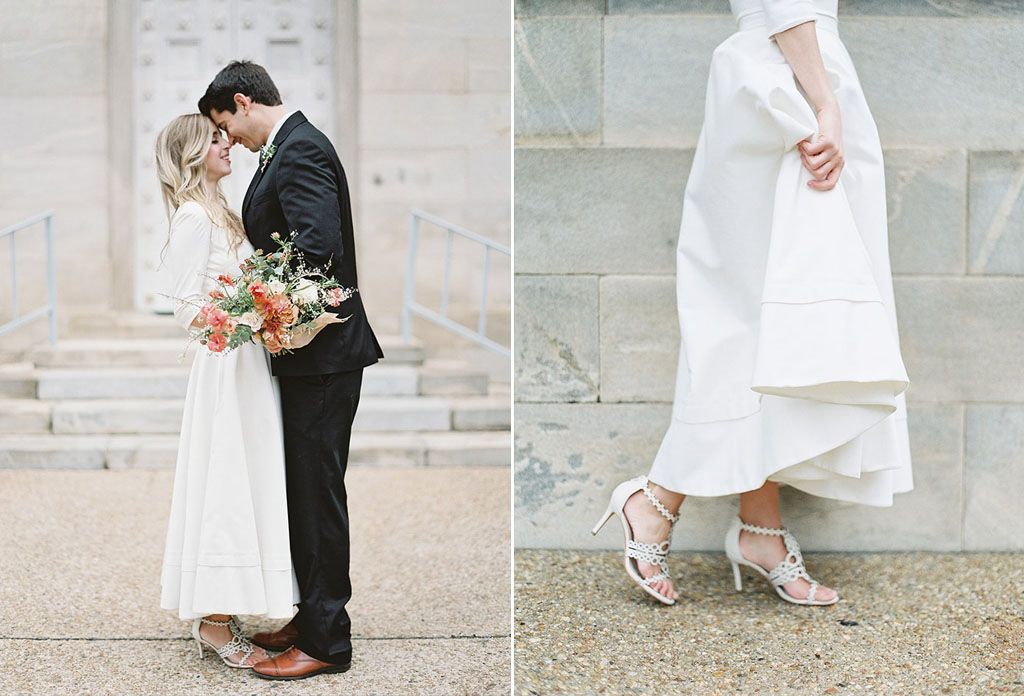 Photography: Jake + Heather


Photography: Ozzy Garcia

4. Tea-length
If you prefer a longer skirt but still want to move freely, try a tea-length dress. A tea-length hem usually falls between the calf and ankles, providing modesty and versatility at the same time. As this length was very popular back in the day, it will be perfect for a vintage-themed wedding.

Photography: Faith Teasley


Photography: : Linnea Paulina

5. Skirt variations
Keep things simple doesn't mean not being able to play around with your skirt. Avoid puffy gowns with tulle underskirts, as there are other ways to maintain an understated elegance. A loose, flowing skirt can add an ethereal touch to your whole ensemble. You can also combine various textures and lengths into one dress. Or, add a tasteful slit to make your dress look more elegant.

Photography: MK Sadler, Dress & Cape: Alexandra Grecco


Photography: Tamara Gruner Photography - Stacy Bauer Photography

6. Cape
Adding a cape is a simple way to create a distinctive bridal look. You can pair a cape with a skirt to form a fashion-forward two-piece ensemble. Alternatively, wear a see-through cape over a simple sheath dress to look like a modern-day goddess.

Photography: Chantel Marie


Photography: Volvoreta Bodas

7. Modern cuts
If you're throwing a chic celebration filled with geometric shapes or other contemporary details, you need a dress that suits the occasion. Choose one with an intriguingly simple cut and modern aesthetics. Take some notes from real bride, Yessa's minimalist wedding dress for her all-white wedding in Bali.

Photography: Clary Pfeiffer

8. See-through
Make your minimalist wedding dress look even more alluring with a few see-through details. You can add a backless illusion as pictured above or opt for an illusion neckline or sleeves. This option would be perfect for brides who want a subtler alternative to sexy backless dresses.
So, what do you think? Which minimalist wedding dress if your favorite? Tell us on the comment section below and start adding the photos to your inspiration board!