Year after year, all eyes are focused on the Bridal Fashion Week held in New York City. Aside from being the platform for talented bridal designers to showcase their beautiful designs, it has become a place for brides-to-be around the world to spot the latest bridal trends and inspirations for their own wedding.
We've scoured the latest Spring 2017 bridal collections and found that some wedding trends have left, some have stayed, while a lot of new and exciting ones have emerged. Today, we're putting together 20 exciting wedding dress trends for your viewing pleasure. Go on, scroll down to take a look and see if you can find the wedding dress of your dreams.

1.3D floral appliqués

Designers (from top left, clockwise): Galia Lahav, Naeem Khan, Marchesa, Monique Lhuillier
Renowned designers Galia Lahav and Monique Lhuillier used 3D floral appliqués to add a romantic, ethereal feel to their dresses. For bolder brides, Marchesa's piece would be the perfect fit. On the skirt, designers Georgina Chapman and Keren Craig incorporated large floral appliqués that will certainly make a statement and leave a lasting impression.

We also couldn't miss the glorious black dress by Naeem Khan. He went all out and added floral appliqués to the dress, bodice, even up to the veil. Black might be too strong of a color for brides, but the addition of graceful flowers turned everything into a perfect balance.

2.Bohemian-inspired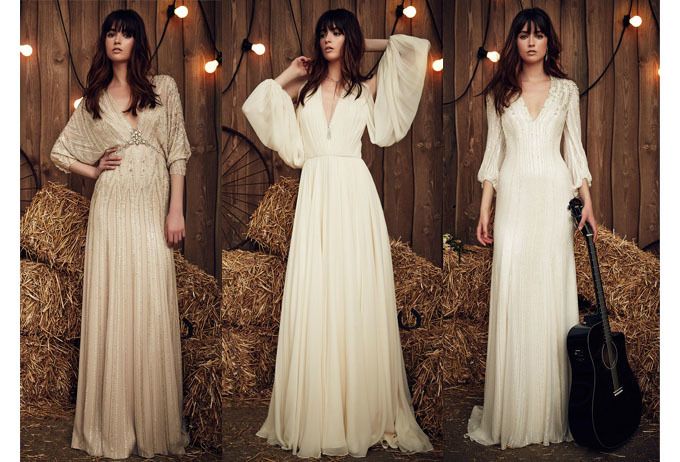 Designers: Jenny Packham (top photo), Claire Pettibone (bottom photo)
Rustic weddings with a bohemian touch, like this one, have become increasingly popular, and more designers have created just the right dresses to suit them. Jenny Packham played around with loose, flowing sleeves to give her collection a gypsy spirit. The easygoing silhouettes kept the dresses down-to-earth, but the sequins added a touch of glamour. Meanwhile, Claire Pettibone experimented with intricate cutouts that wouldn't look out of place in a bohemian or beach wedding.

3.Colorful dresses

Designers (from top left, clockwise): Naeem Khan, Mira Zwillinger, Hayley Paige, Jenny Packham, Hayley Paige
Non-white wedding dresses are here to stay. A range of beautifully-colored dresses filled the Spring 2017 runway and we're so excited to share them with you. These colorful dresses in violet, lilac, blue, green, and champagne are simply impossible to be ignored. If you're looking for an alternative to the classic white dress, these beautiful pieces should do. Don't forget to check out Pantone's color trend report for more ideas.
Designers: Naeem Khan, Romona Keveza
If you're planning a traditional wedding, there are also plenty of beautiful options for you. The pink kaftan by Naeem Khan is suitable for a pengajian ceremony. while the lilac dress by Romona Keveza is perfect for an Indian-inspired wedding. So pretty!

4.Sparkly sequins

Designers (from top left, clockwise): Christian Siriano, Theia, Galia Lahav, Reem Acra
When in doubt, add a little bling. Christian Siriano brought forth a simple dress made from shiny, sequined material, while Theia showcased a dark dress with symmetrical patterns that reminds us of the 1920s era. If you feel that a fully-glittered dress is too much for you, check out the dress by Reem Acra, which has sequins on top, and the one by Galia Lahav, who added them on the bottom part instead.

5.Short and sweet

Designers: Oscar de la Renta (top photo), Mira Zwillinger (bottom photo)
If you're looking for something that's easy, cute, but no less pretty, a short dress might be the answer. These dresses by Oscar de la Renta look so stylish despite their shorter length. Taking it up to the next level was Mira Zwillinger, who turned her short dresses into even trendier two-piece outfits. Would you wear a short dress on your wedding day?

6.Carefully-placed embellishments

Designers (from top left, clockwise): Angel Sanchez, Anne Barge Bridal, Kelly Faetanini, J Mendel, Hayley Paige, Kelly Faetanini
Intricate beading, embroidery, and appliqués in various shapes can add something extra special to a simple wedding dress. As you can see, the addition of embellishments makes these dresses look so magnificent despite their classic silhouettes. The creative placement of embellishments is key, as they have to be visible and precise to create an impact.

7.Pants

Designers: Lela Rose, Elie Saab, Carolina Herrera
Just like they did last year, pants and jumpsuits are taking the wedding world by storm. Pants may be an unconventional choice for brides, but they are just so comfortable, modern, and elegant at the same time. After all, there are no strict rules stating that you have to wear a dress on your wedding day. Wide-leg pants or ankle-length trousers, the choice is entirely up to you.

8.Florals

Designers (from top left, clockwise): Romona Keveza, Naeem Khan, Oscar de la Renta, Ines di Santo, Lela Rose, Sabrina Dahan. Naeem Khan, Lela Rose
Always a popular choice for weddings, florals are far from boring. We're in love with this white Naeem Khan dress with blue embroidered flowers. The Oscar de la Renta piece with floral embroidery all over is also beautiful, though not as eye-catching as the white dress with purple flowers by Romona Keveza. Ines di Santo wowed us once again with this floral ball gown, and no less stunning is a dress by Lela Rose, who paired a plain top with a floral skirt. Which of these is your favorite?

9.Embellishments all over

Designers (from top left, clockwise): Lazaro, Naeem Khan, Jenny Packham, Monique Lhuillier, Jenny Packham
Beads all over this Lazaro ball gown make it look oh-so-glamorous and bewitching. The pink Naeem Khan piece has a Hollywood quality to it, thanks to the violet embroidery all over the dress. Jenny Packham took a more playful approach with stars and leaf-shaped beads on her dresses, while Monique Lhuillier kept it classic with full floral embellishments. Did you spot any of your new favorites?

10.Clean and simple

Designers: Delphine Manivet (top photo), Elie Saab (bottom photo)
If you're the kind of bride who prefers to wear something simple on your wedding day, then worry not, for there are also some wonderful options for you. Delphine Manivet and Elie Saab launched their collection with a few simple yet elegant dresses for brides seeking something that has an aura of understated beauty.
Can't get enough of all these exciting trends? Just go through the slideshow below to find 10 trending details that we found all over the runway.