This gorgeous nuptial of Steven and Pearly was the perfect definition of autumn wedding. The blend of rustic details was a sweet reminder of how stunning a fall affair can be. Set in the Stones of Yarra Valley, the couple mixed deep bold hues – like sangria, with natural textures – like gold-yellow all over the decoration.
Another excellent choice was the rustic wedding cake. Over the white and yellow layers, the wedding cake was adorned with different kind of exotic fruits, bringing in the bounty of fall harvest. Perfectly captured by Kylee Yee, the gallery will wrap all the essence of autumn and bring them right in front of you.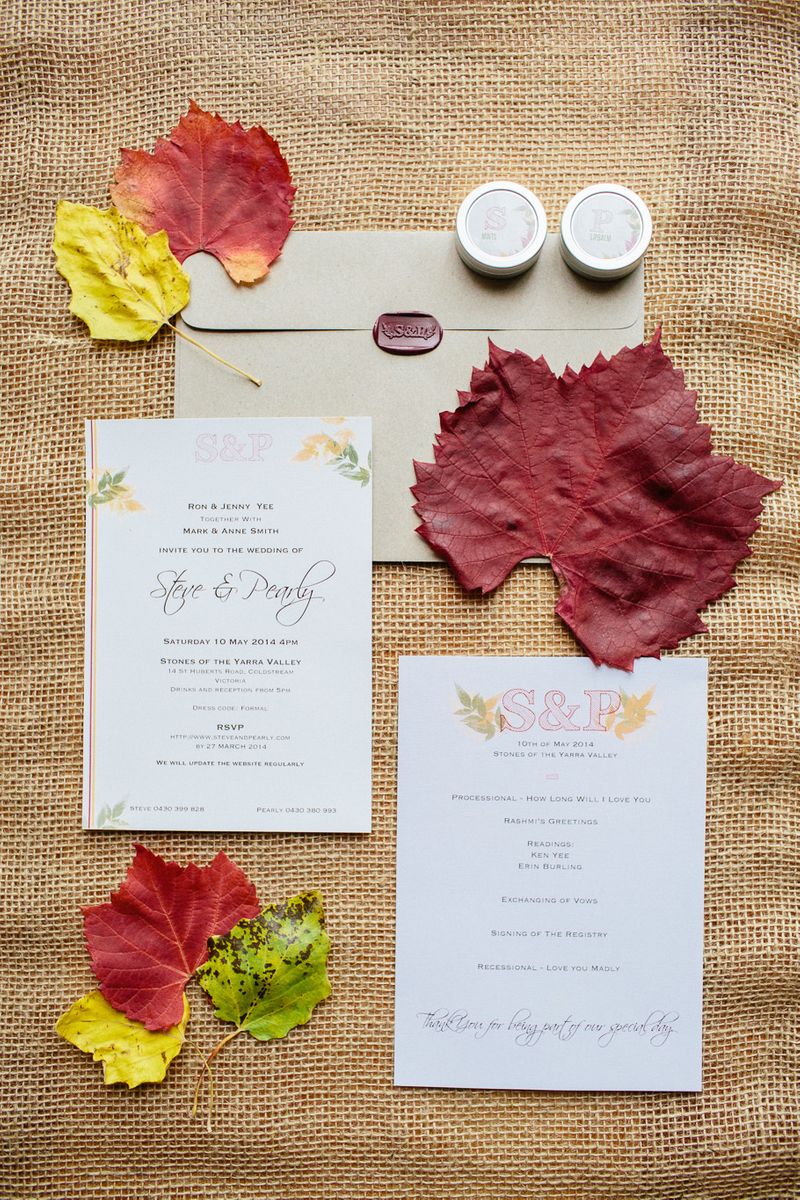 See also: This Couple's Coastal Wedding is Beautifully Timeless
A few words from the bride:
Steve and I definitely had an idea of what our wedding day should look like to represent us as a couple. My favorite season is autumn. We spent many years in the beautiful Canberra autumns and to me nothing is more beautiful. There also had to be plenty of delicious food.
Our vision was a luscious, autumnal feast featuring fresh produce as part of the
floral arrangements. Our bouquets featured hydrangeas, roses and crabapples. Each guest had an apple as their place card cleverly pinned with leaves bearing their name. The centerpieces of birch candelabras were surrounded with beautiful flora, apples, pears and grapes. Over the bridal table, we had a sensational autumnal arrangement, which looked like we were sitting under the branches of a beautiful oak tree, complimented with hanging tea lights.

It was everything I had hoped and dreamed for the day. Having our
guests indulge in the La Familia share platter dining experience completed our
vision of a lush, delicious feast shared with loved ones. When I think of our wedding, I feel so proud of the people we have around us. We pulled off the most spectacular day for our family and friends – and ultimately for me and Steve.