After releasing Bridestory's annual wedding trends reports for Indonesia and Singapore, it's time to shift the spotlight to the Philippines! We reached out to 800 brides and grooms in the country to discover the latest trends that will guide you throughout your wedding planning process. Without further ado, let's take a look!
From our survey, we found out that couples in the Philippines get married relatively much later than couples in Indonesia and Singapore. The average age of brides is 28–31 years old, while the grooms are usually between 30–33 years old. Filipino couples also tend to go through longer engagement periods, between one and two years, before starting their wedding planning.
About 46.7% of these couples choose an auspicious wedding date, believing that it will bring luck to their marriage. Meanwhile, their favorite months to get married are January, June, and December.
More than half of these couples have successfully followed their wedding budget, while 40.7% spend more and 7.3% spend less than the budget. Venue and catering matter the most for couples, as 43.5% of them are willing to spend 50-75% of their total budget on these two wedding elements.
The majority of engaged couples (77.4%) in the Philippines show their financial independence by paying for their wedding themselves. This could be one of the reasons behind their decision to get married later rather than at a young age.
As usual, brides (70.4%) are the primary decision makers in wedding planning. Although a majority of celebrations are still held in the couple's hometown (70.6%), about a third of them (29.4%) are destination weddings within the Philippines in popular locations such as Tagaytay, Boracay, and Cebu. Couples typically give out e-invitations to their guests before sending physical ones.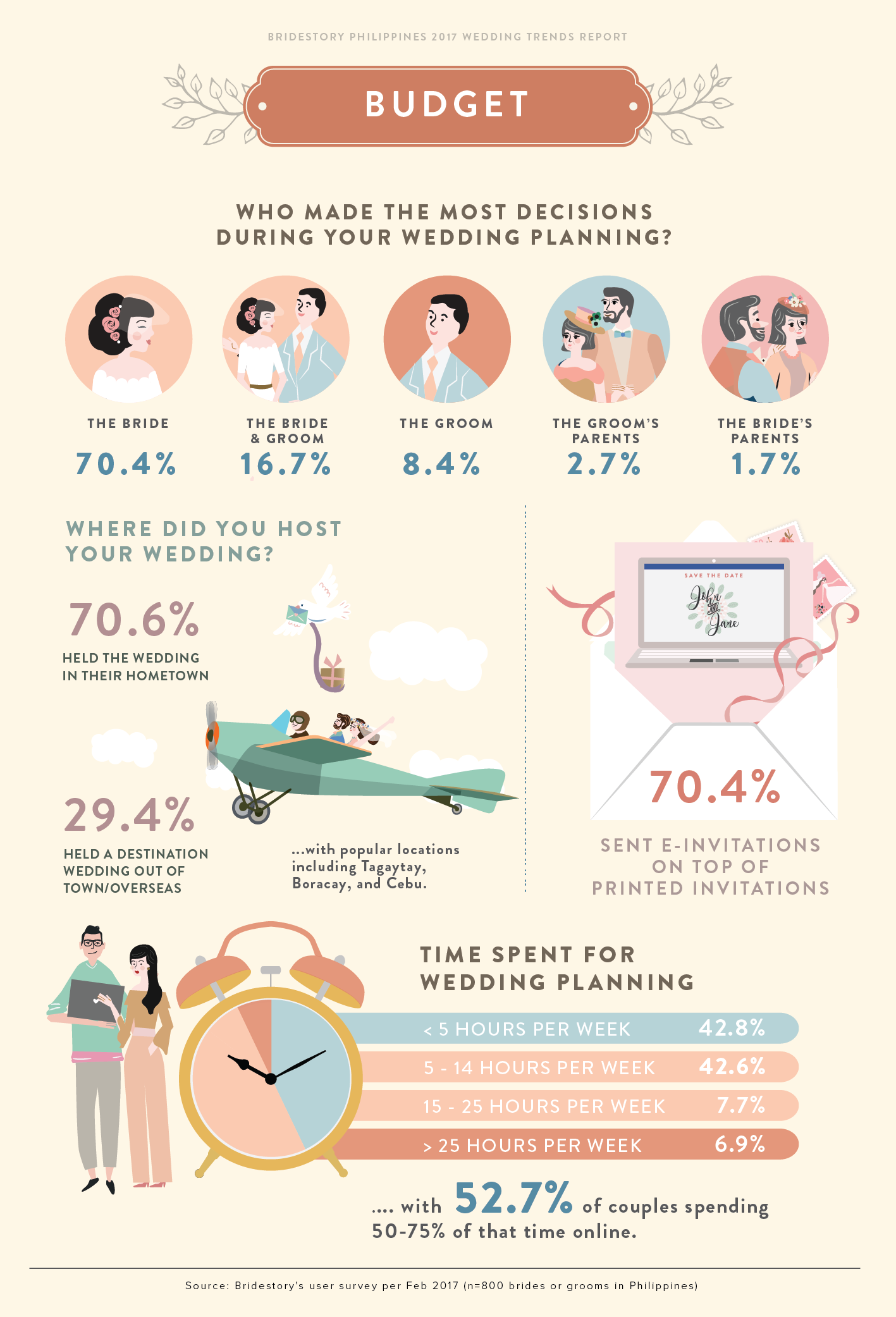 When choosing their wedding vendors, the top three factors that Filipino couples consider are price, portfolio, and reviews. For most of them (75.2%), taking pre-wedding or engagement photos is an important step that keeps their memories intact. Hiring the right wedding planner or coordinator is also crucial in ensuring that their special day goes smoothly.
The most popular reception for the big day is the sit-down dinner (96.2%). Guests are usually given wedding favors as a token of appreciation, with common gifts being food (36%), accessories (24.7%), and cutlery (20.2%).
For those living in the Philippines, outdoor and indoor spots are the most sought-after locations for a pre-wedding photo shoot. Some also head overseas to Singapore, Japan, Bali, Paris, or Hong Kong to take engagement photos. Most couples like to dress in either casual wear or a formal suit and dress for these photo sessions.
Function halls, hotel ballrooms, and outdoor event spaces like gardens or poolside areas are the top wedding venue choices in the Philippines. As for the overall wedding theme, green botanical, rustic, and modern-minimalist are favorites, paired with colors like pink, gold, red, navy blue, or turquoise.
Filipino brides favor classic wedding dress styles such as ball gowns, A-line dress, and mermaid-cut dresses complete with off-the-shoulder, illusion, or sweetheart necklines. Accompanying them are usually three to six bridesmaids wearing pink, red, or navy dresses. As for the grooms, most of them prefer classic single breasted tuxedos, strollers, or full-dress tails in classic colors such as black, gray, and navy blue.
There you go, the latest wedding trends among couples in the Philippines this year. Did any of the trends match your dream wedding? Tell us in the comments section below!