Photography: The Grovers
Photography: Tenth and Grace
Photography: Kayla Barker
Photography: Mirelle Carmichael Photography
We've been waiting for summer this whole year, and how could we not? With its clear skies, glistening sunlight, and refreshing breeze, no wonder summer is the perfect season for weddings. If you're planning to get hitched this season, we've picked the top flowers that are perfect for your summer celebration. Get to know each one slowly and perhaps one (or all of them) will be lucky enough to be part of your special day.

Photography: via Fab You Bliss (top photo)
Olivia Griffin - Sasithon Photography (bottom photo)
Sunflower
First up is none other than the sunflower. Bright and full of energy, sunflowers will add a joyous atmosphere to your wedding. Known as the state flower of Kansas and national flower of Russia, sunflowers reach their peak in June through September. A little known fact: this flower actually comes in colors other than yellow; like red, orange, and brown. But for the ultimate summery feel, yellow sunflowers are the most popular.
Sunflowers are so eye-catching, they should be the main flowers in an arrangement. Their bright color will set the tone and bring out a cheerful aura. The lovely thing about sunflowers is that you can pair them with almost any color and they'll fit in just fine; blue, purple, white, even maroon. Do keep one thing in mind, though. Sunflowers are already very flashy, so pairing them with other prime flowers in a bouquet can be a bit too much. Other than for wedding bouquets, sunflowers are also perfect as decorations. You can have them on your wedding cake, flower crowns, or as part as the table centerpieces.
There are plenty of noble meanings associated with sunflowers, mostly coming from its namesake, the sun. The sunflower represents faith, longevity, and healing. On a more romantic side, the sunflower represents adoration and loyalty, as the flower always turns its head towards the sun.
Photography: Emily Steffen - Feather and Twine (top photo)
Anna Delores - Kate Webber (bottom photo)
Dahlia
Easily noticeable thanks to its striking and sculptural petals, the dahlia is one of the most beautiful blooms a bride can have on her wedding day. Dahlias come in both soft colors like peach or white and bold vibrant colors like magenta, purple, even black. The national flower of Mexico comes in a range of size and shapes, making it a flower you can easily experiment with. Dahlias are also reasonably-priced; the more reason to include them in your big day.
Dahlias are prominent flowers, which means you can put them front and center. If you have a calm color palette for your wedding, include light-colored dahlias. On the other hand, you can add darker, more vibrant dahlias for a more extravagant feel. If you wish to add dahlias somewhere else, they make really pretty centerpieces and cake decorations too. Dahlias are able to withstand heat and are perfect for an outdoor summer wedding.
Dahlias symbolize the noble values of marriage. They have been said to express dignity and elegance. They also signify commitment and a bond that lasts forever, the very things a couple wishes for in their marriage.
Photography: Izzie Rae - Grover Photographer (top photo)
Scott Andrew (bottom photo)

Lavender
Lavender is a favorite for brides everywhere. Its rustic beauty and enchanting fragrance has made lavender a star in the world of weddings. It might not be as bold and extravagant as dahlia or peony, but lavender will imbue a romantic and feminine atmosphere to any wedding.
Because of its simple shape, lavender is often used as complementary flowers. However, using only lavenders in your wedding bouquet is also a lovely option, especially if your wedding is an outdoor rustic one. Having an all-lavender bouquet in a grand ballroom setting, however, will make it disappear underneath all the glamour.
As part of the decorations, boutonnieres, and corsages, lavender is a foolproof choice. Another popular use for lavender in weddings is to toss them at the couple after the ceremony. Another great thing about lavender is the fact that its soothing fragrance can set up a relaxing mood for all your guests.
There have been a number of meanings tied to lavender. Some say that it symbolizes serenity, grace, and calmness. Others have linked it to admiration, purity, and devotion. It is also believed that different colors of the flower conveys different meanings; darker shades of purple mean beauty and love. Whatever the meaning, lavender will be one great addition to your merry celebration.
Photography: Erika Gerdemark - onelove photography (top photo)
Lauren Peele (bottom photo)
Lauren Peele - Erika Gerdemark (bottom photo)
Protea
As a wedding flower, it is without a doubt that the king protea will catch the attention of anyone who lays eyes on it. Named after the Greek god Proteus, proteas have a wide variety of shapes and colors. King protea, to be specific, has the largest head of the genus, with spiked blush petals and a pink tip, along with a fuzzy center dome. The one in highest demand these days, however, is the pure white breed of the flower that excites brides everywhere.
As they are prime flowers, it's definitely an easy job to make proteas the center of any floral arrangement. You don't have to worry about combining them with other prime flowers like peonies or lilies, as the protea will most probably outsize them, so there will be no clashing flowers in your bouquet. If you want, you can also create a sole flower bouquet consisting of only one protea; so clean and simple. In its bud shape, the protea also looks as nice and is versatile enough to place as part of other wedding elements.
The meaning associated with proteas actually dates back to the Greek god that precedes its name. Proteus is the sea god that has the ability to change his shape at will, and protea is believed to be named after him because it also presents itself in a variety of shapes, colors, and textures. With all these at hand, it makes perfect sense that the protea symbolizes diversity and courage.
Photography: via Pinterest (top photo)

via So You're Getting Married - via Rock My Wedding (bottom photo)
Cornflower
The cornflower, also known as bluebottle, is an annual flowering plant that reaches its peak in the summer. It is native to Europe, but is now available in many parts of the world such as America and Australia. Traditionally, it was believed in medieval tales that a lady who places a cornflower underneath her skirt can have any bachelor she desires.
True to its name, the bluebottle usually has a vibrant and intense blue color. However, this flower actually comes in a range of other colors from white, magenta, to blue-gray. For a maximum impact, we think having cornflower in its original color is the best option. Its unique shape makes it a lovely addition to any bouquet and its rugged quality complements a rustic or country wedding decoration perfectly.
Lately, cornflowers have become more and more popular, especially in the summer. The bloom is also very reasonably-priced and the meaning it's associated with, felicity, adds another great value to the whole celebration.
Photography: via Colin Cowie Weddings - Byron Loves Fawn (top photo)

via So You're Getting Married - via Rock My Wedding (bottom photo)
Freesia
Freesia originated in South Africa and is one of the most fragrant flowers. Freesias come in many different colors like red, pink, yellow, orange, and lavender, with white being the most common. They are unique in that they have multiple blooms in one stem with buds at the end. This is one of the reasons why this flower is much sought after.
Freesias can fit into various wedding color palettes. Whether it's soft or vibrant, freesias will fit in just fine. Creating a posy bouquet using this flower is an option you can consider. Want something a bit more lush? Use fuller flowers and add in freesias as fillers. You can also use them in boutonnieres or other accessories worn by the bridal party. Because of its pleasing scent, freesia will be a lovely decoration element; not too much on the centerpieces, though, as its scent might meddle with your guests' appetite.
As if being beautiful is not enough, freesias are associated with meanings that are just as pretty. For weddings, freesias are associated with purity and innocence, which are just the two things a happy marriage should have.
Photography: via Unique Floral Expressions (top photo)
via Snippet and Ink - via The Knot (bottom photo)
Gladiolus
Gladiolus or sword lily is a flower loved for its showy quality and vibrant colors. The flower grows on towering spikes and has an enticing fragrance. Its variety of colors such as, red, orange, purple, magenta, and white makes it very versatile in any kind of arrangement.
A group of tall gladioli in a large vase will be a wonderful centerpiece idea, especially for modern weddings with a taste of elegance. If you happen to be a tall bride, holding a pageant-style bouquet of gladioli is also something you should consider. You need to be cautious, though, as some parts of the gladiolus are poisonous. So if you choose to hold the flowers, make sure that there are no toxic parts exposed to your skin.
A symbol of strength and moral integrity, gladiolus also represents infatuation. It is said that presenting a bouquet of gladioli means that the receiver has pierced the giver's heart with passion. Other beautiful meanings associated with gladiolus are strength of character, faithfulness, sincerity, and integrity.
Photography: via Pinterest (top photo)
via WED - via Whimsical Wonderland Weddings (bottom photo)
Stock
Contrary to its seemingly ordinary name, the stock flower or sometimes known as the gilly flower is actually very fragrant and attractive. Stock flowers start blooming in spring and last through late summer. However, they might take a break during the hottest days of summer.
Coming in colors like pink, red, lilac, peach, and white, a bunch of stock flowers makes a simple yet lovely centerpiece. Go easy with them, as they have a noticeable fragrance that might not sit well with guests. Even better, you can pair them with eucalyptus leaves, as seen in the picture above. Aside from being great filler flowers in a bouquet, stock flowers can also adorn your simple chignon.
Native to southwestern Greece and the Mediterranean, this beautiful bunch is often used to symbolize a happy life and contented existence. Such a pretty flower with a pretty meaning, wouldn't you want to have it on your wedding day?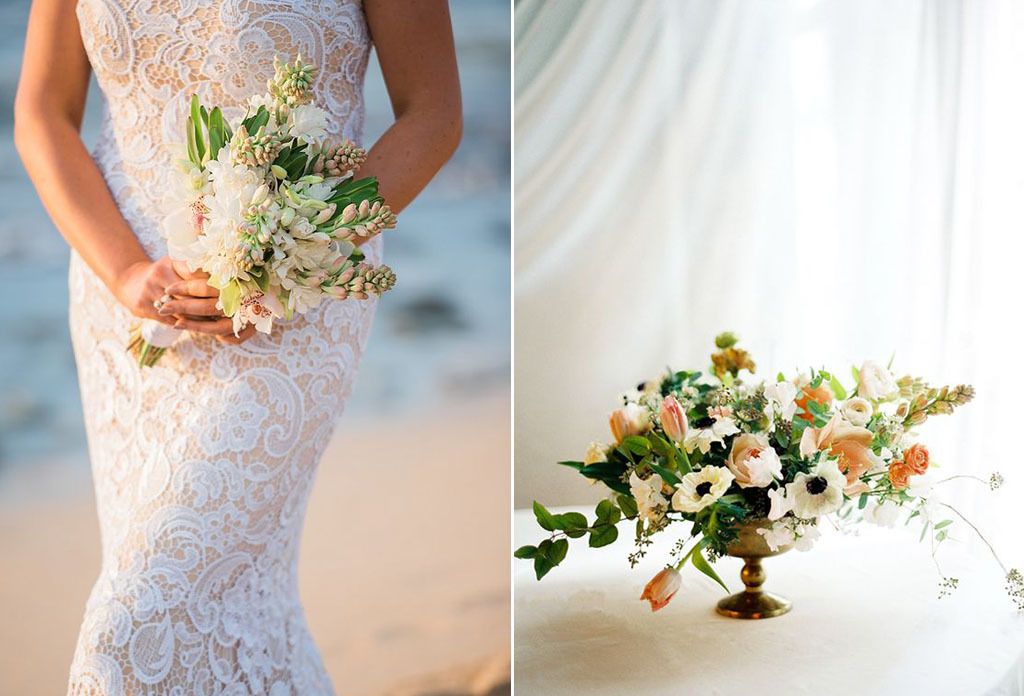 Photography: via Maile Maui Weddings - Lucy Cuneo
Tuberose
The tuberose is especially popular in Indonesia, China, India, and France. Native to Mexico, this flower received its name from the Greek word that means "many flowers" and this rings true as tuberose usually comes in a stem with multiple blooms. The interesting thing about tuberose is that it is a night-blooming flower, which is a quite rare attribute to have. In the Indonesian language, the flower is known as sedap malam, which translates to "night fragrance".
In some cultures in Indonesia and India, the tuberose is an essential part of every wedding celebration. They are frequently used in garlands and decorations, and as part of some wedding rituals. There are multiple meanings associated with tuberose. As a gift, its delightful aroma and beauty expresses the giver's passion for the recipient. How blissful.
Photography: Mademoiselle Fiona - Michelle M. Waite
Cosmos
Last but not least is the cosmos flower. Blooming in summer through fall, this showy bloom comes in a range of colors, from soft to vibrant. Its flower heads come in a variety of shapes such as bowl- or open-cup-shaped.
Cosmos has a very unique quality; its fragrance attracts bees and birds. If you want to use cosmos flowers for your wedding, use them sparingly and spread them in different areas. You wouldn't want insects and birds to be bothering your guests, would you? As an alternative, you can use cosmos as a filler flower in your floral arrangement, combined with other fragrant flowers.
Aside from its great looks and fragrance, another reason why cosmos is so loved is its meaning. Considered the flower of love, cosmos exudes peacefulness, wholeness, and modesty. An interesting fact about the brown variety of this flower; it signifies that the giver loves the receiver more than anybody can, a reason why it's a very popular choice for weddings.